Records per page:
Order by: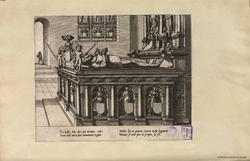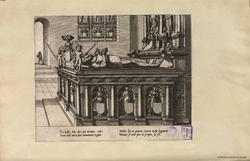 Title
[Cenotafio de un matrimonio de nobles] [Material gráfico]

Author
Date
1563
Edition
[Amberes] : H. Cock ex.
Type
Dibujos, grabados y fotografías
Subject
Physical description
1 estampa : aguafuerte y buril; 150 x 209 mm

Call number
ER/969(47)
ER/969 (47)
PID
bdh0000025105
Description
Inscripción en el margen infrior en dos columnas de dos versos: Hunc nulli notos... si coelo sunt ea scripta, sat est. El número 17 en la esquina inferior derecha
Catálogo El Escorial v. 2, p. 175, 15.17.
The New Hollstein dutch and Flemish. The Van Doetechum family, part 2 p. 119 -137, 300 -326(316).
Estampa pegada en: Fatum universi observatum a Francesco Allaeio arabe Christiano... en la parte de sepulcros de los Países Bajos (est. 47)
La estampa no esta firmada, pero se atribuye a Johannes y Lucas van Doetechum
El nombre de Cock, como editor en la portada de la serie
Pertenece a la serie Coenotaphiorum, tumulorum et mortuorum que consta de 28 estampas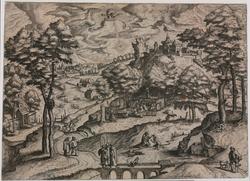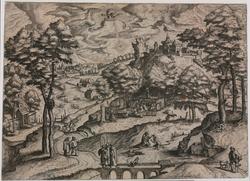 Title
[Paisajes con escenas de la Biblia y con santos] [Material gráfico]

Author
Date
entre 1550 y 1570?
Edition
[Amberes] : h. cock excud.
Type
Dibujos, grabados y fotografías
Subject
Physical description
5 estampas : aguafuerte y buril; 230 x 325 mm

Call number
INVENT/1167 (ESTAMPA 3)
INVENT/1168 (ESTAMPA 5)
INVENT/1169 (ESTAMPA 4)
INVENT/1170 (ESTAMPA 2)
INVENT/1171 (ESTAMPA 1)
Invent/1167-Invent/1171

PID
bdh0000259294
Content
[1] [Abraham y los ángeles] Abraham invitat angelos / LG [monograma] ; [2] [Jonás y la ballena] Deflet niniven ionas ; [3] [El bautismo de Cristo] ; [4] [San Jerónimo en el desierto] hieronimus in deserto / LG [monograma] ; [5] [San Antonio] salve antoni / LG [monograma]
Description
Hollstein. Dutch and flemish v. 7, p. 89, 1 -4.
The New Hollstein Dutch and Flemish. The Van Doetecum Family, part 2 p. 112 -115, 291 -295, 1.
El arte del grabado flamenco y holandés (Lám. 3) [Paisaje con el bautismo de Cristo], p. 71, n. 69.
Grabados flamencos y holandeses del siglo XVI (Lám. 1) [Abraham y los ángeles], p. 46 -47, n. 22.
La primera, la cuarta y la quinta firmadas con el monograma LG, atribuido a Lucas Gassel. Como grabador se habían atribuído a Coock, pero The New Hollstein las atribuye a los hermanos Doetecum
Todas con el nombre de H. Cock como editor
Serie completa de 5 estampas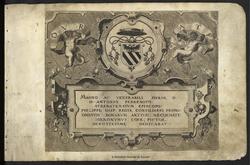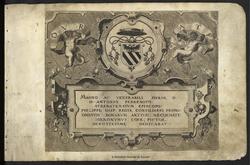 Title
[Scenographia sive perspectiva...] [Material gráfico][estampas sueltas]

Author
Date
1563
Edition
[Amberes?] : Cock excudebat
Type
Dibujos, grabados y fotografías
Subject
Physical description
14 estampas : aguafuerte y buril; 210 x 254 mm

Call number
Invent/80080-Invent/80092

PID
bdh0000008809
Content
[Dedicatoria a Antonio Perrenoto] MAGNO AC VENERABILI... HIERONYMUS COCK PICTOR DEVOTISSIME DEDICABAT - Estampas: 1, 2, 3, 5, 6, 10, 11, 12, 13, 14, 15, 17, 20 (Algunos números corregidos)
Description
Hollstein. Dutch and flemish v. 4, p. 191, 556 -575.
The New Hollstein Dutch and Flemish. The Van Doetecum Family, part 2 p. 7 -12, 163 -182, 2.
Riggs p. 364, 206.
Grabadas por Johannes y Lucas van Doetecum, según dibujos de Johannes Vredman de Vries. Se conservan 8 dibujos originales en Viena (Benesch, 293 -300)
La mayoría firmadas por Vries como inventor
Muchas con el nombre de Cock como editor
La signatura Invent/80085 está duplicada
La serie completa tiene un título, la dedicatoria y 20 estampas numeradas
©2022 BNE - Pº de Recoletos 20-22
28071 Madrid Tel.: (34) 91 580 78 00