Records per page:
Order by:
Title
[El caballero, la muerte y el
diablo

] [Material gráfico] / AD [monograma]


Author

Date

entre 1600 y 1650?

Edition

[S.l. : s.n.

Type

Dibujos, grabados y fotografías

Subject

Demonio

Caballeros y caballería

Muerte

Grabados alegóricos

Grabados calcográficos - Holanda - S.XVII

Alegorías

Physical description

1 estampa : grab. calc.; 245 x 88 mm


Call number

INVENT/42708

PID

bdh0000022842

Related collections

Bellas Artes > Grabados > Grabados Alemanes

Description

Bartsch, Adam von v. 7, p. 106, 98 -A.
The illustrated Bartsch v. 10, 98 -A (106).
Hollstein. German v. 7, p. 68 -69.
The illustrated Bartsch v. 10 (Commentary) B.98, C1.
Heller 1014.
Dürer e dintorni. Incisioni dei Musei Civici di Padova, 1994 p. 116 -117.
Grabados alemanes 563.
Durero y la Edad de oro del grabado alemán, 1997 p. 95.
Joanot Martorell y el otoño de la caballería, 2011 p. 264.
Sin fecha, el original tiene la fecha 1513 y la letra S, referida a Anno Salutis. Por el estilo y las características del papel parece del S.XVII
Copia del grabado de Dürer (B.98). El grabador podría ser holandés o alemán
El monograma de Dürer en una tablilla en esquina inferior izquierda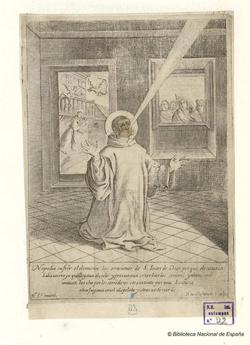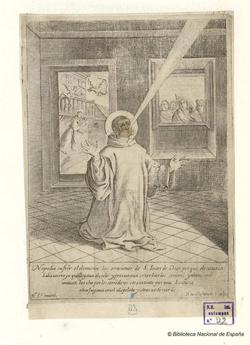 Title
[De la Boca de San Juan de Dios, sale visiblemente un Raio de Luz] [Material gráfico] / fr.co f.z invent. ; P.º Villafranca esculp

Author
Date
1640?
Edition
[S.l. : s.n.