Records per page:
Order by: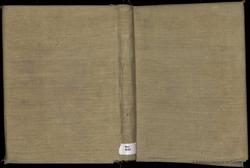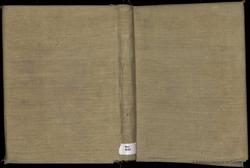 Title
Epistola directa ad inclitum et magnificum virum dominum Petrum Fernandi de Velasco Comitem de Haro [Manuscrito] / Alonso de Cartagena

Author
Date
entre 1401 y 1500?
Edition
S. XV
Type
Manuscrito
Subject
Physical description
78 h. : perg., il.; 31 x 22 cm

Call number
Mss/9208
PID
bdh0000096057
CDU
17
81
82
Content
Cathoniana confectio, de Dionsio Catón
Description
Antonio Castillo Gómez: Historia de la cultura escrita, Gijón, 2002 p. 228.
Domínguez Bordona, Mss. con pinturas I, p. 311.
Ryan Giles: "Interpreting Authority in Fifteenth -Century Spain: Alonso de Cartagena's Por Marcelo and the Cathoniana Confectio", La Corónica 35 (2006) p. 293 -300.
Víctor Infantes: "El Catón hispánico. Versiones, ediciones y transmisiones", Actas del VI congreso internacional de la Asociación Hispánica de Literatura Medieval, II p. 841.
Lawrance, Haro p. 1105.
Lawrance: "La autoridad de la letra: un aspecto de la lucha entre humanistas y escolásticos en la Castilla del siglo XV", Atalaya 2 (1991) p. 85.
Lawrance: Un tratado de Alonso de Cartagena sobre la educación y los estudios literarios. Universidad Autónoma de Barcelona, 1979 p. 61.
Juan Menéndez Pidal: "Leyendas del último rey godo", RABM 13 (1905) p. 179.
Paz, Haro 19 (1908) p. 127.
In primis carissime te volo docere (h. 27r)... Personis trine deus unite rex sine fine (h. 78r)
Incipit epistula directa ad inclitum et magnificum virum dominum Petrum Fernandi de Velasco comitem de Haro et dominum antique domus de Salas (h. 1r)... Explicit Epistula. Incipit Cathoniana confectio (h. 26r)
Conde de Haro
Cathoniana confection: a latin gloss on the "Disticha catonis" and the "Contemptum mundi" (ed. Barry Taylor), Bristol, 2004
Iniciales y orlas miniadas. Títulos de capítulos en rojo. Orlas en h. 1r, 27r y 52v. Dibujos en algunos márgenes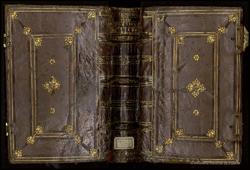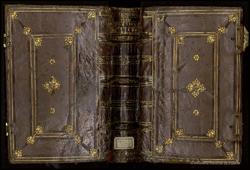 Title
Códice de Azagra [Manuscrito]

Author
Date
entre 0801 y 1000?
Type
Manuscrito
Physical description
II, 159 h. : perg. y papel; 23 x 16 cm.

Call number
Mss/10029
PID
bdh0000139680
Content
Eugenio de Toledo: Praefatio in Dracontium (h.1) ; Epitaphia Alonis grammatici in sepulchro Constantiae reginae uxoris Alphonsi VI (h. 1v); Hexameron Liber primus (h. 2-12); Satisfactio prose Liber secundus (h. 12-16); Monostica recapitulationis septem dierum (h. 16-17); Carta en Prosa a Chindasvinto (h. 17-17v). Corippo, In laudem Iustini Augusti minoris (h. 17v-51). Sedulio, Himnus Cantemus socii (h.51-52v). Versi in ponte Emeritae (h. 52v-53). Eugenio de Toledo, Carmina (h. 53-60v). Martín de Dumio: Versus in vaselica Martini Gerundensis (h. 61); In refectorio; Epitafion (h. 61v). Eugenio de Toledo, Carmina (h. 62-75). Catón: Epístola en prosa a su hijo (h. 75); Breves sententiae (h. 75v); Disticos, Liber I (h. 76-76v). Verecundo de Junca, De satisfactione poenitentiae (h. 77-81). Juvenco, Evangelia (h. 81-135). Venancio Fortunato, Carmen ad Chilpericum regem (h. 135-137v). Cipriano de Córdoba, Carmina (h. 137v-139). Sanson Abad, Epitaphium super sepulcrum Offilonis abbatis, Eiusdem super tumulum Atanagildi abbatis, Item cuius supra sepulcrum Valentiniani presbiteri (h. 139-139v). San Jerónimo, Epitaphium Paulae (h. 139v-140). Item alius. Verbis credere mei (h. 140). Item alius. Carmina de candido et nigro (h. 140-141). Item alius (h. 141v). Versus Vicentis Deus miserere mei (h. 141v). Versi de fratis dolosis adversus (h. 142). Secla Dei nate fruaris consortio (h. 142v). Recesvindo Abad, Versi in festivitate Sancti Iacobi Apostoli Xti (h. 143-143v). Sedulio, Salve Sancta parens (Carmen paschale II, 63-81) (h. 143v). Epitaphium Petri Comestoris (h. 144). Anni vel erae in quibus martyres passi sunt usque ad Dioclecianum (h. 144v). Alvaro de Córdoba, Vita S. Eulogii Toletani (h. 145-158). Poema sin título, sobre variantes de los "Versus supra lectum" de Eugenio (h. 158). Otro poema rítmico sobre el mismo modelo (h. 158v). Dámaso, Versi domini Pauli apostolis (h. 159)
Description
Índice de mano posterior en h. I -II. Al final del mismo: Hunc codicem Gotthicum, quo superiora continentur pene lacerum Vallisoleti pretio redemit Michael Ruyzius Azagra Imperatoris Rodolphi secundi secretarius. Quo mortuo ab eius haeredibus impetravit et in hanc bibliothecam transtulit Joannes Baptista Perezius canonicus, et fabricae huius ecclesiae Toletanae praefectus anno M.D.LXXX.VII
Anglés y Subirá vol. I, n. 3.
Alonso de Cartagena?. Catoniana confectio : a Latin gloss on the Disticha Catonis and the Contemptum mundi. Edited and translated by Barry Taylor. Bristol, 2004 p. XX.
Monumenta Germaniae Historica. Auct. Antq., III, II. Corippi libri. Berlin, 1878 p. LI, nº 8.
Loewe y Hartel p. 284 -290.
Clark, Collectanea Hispanica. Paris, 1920 p. 46 -47.
Jiménez Delgado, J., Juvenco en el códice matritense 10029, en Helmántica, 19 (1968) p. 277 -332.
Millares, Visigóticos p. 41 -42, nº 78.
Millares Carlo, A., Corpus de códices visigóticos. Ed. preparada por M.C. Díaz y Díaz, A.M. Mundó [et alt]. Las Palmas de Gran Canaria, 1999, t.I. Estudio p. 117 -118, nº 167.
Riou, Yves, Les manuscrits neumés des poémes d'Eugène II de Tolede, en Annuaire de l'Ecole Pratique des Hautes Etudes (1963 -1964) p. 309.
Vendrell Peñaranda, Manuela, Estudio del Códice de Azagra, en RABM, LXXXII (1979), nº 4 p. 655 -705.
Verecondo di Iunca, Verecundi Incensis Carmen de Paenitentia. Introduzione, testo critico, traduzione e commento a cura di Maria Grazia Bianco. Napoli, 1984
Rubio, Clásicos latinos p. 355 -356.
Pellegrin p. 12 -13.
Díaz Díaz, Index p. 10, nº 29.
Miguel Ruiz de Azagra
Catedral de Toledo
Varias hojas restauradas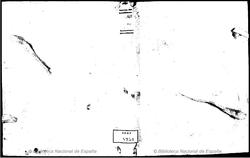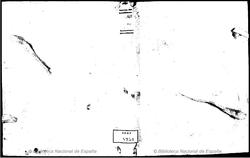 Title
Libri minores, & primum Catonis disticha moralia / cum Antonij Nebrissensis annotationibus

Author
Date
1545
Edition
Apud inclytam Granatam : [Haeredes Antonii Nebrisensis]
Type
Libro
Subject
Physical description
[128] p.; 4º

Call number
U/8250
PID
bdh0000078966
Related collections
Obras Maestras > Literatura
Content
De contemptu mundi et doctrina mensae / [Ioannis Sulpitii Verulani], h. A₁-B₆. ; Aesopi Fabulae ..., h. a₁-b₈. ; Floretus, h. A₁-C₃ r. ; Quinque clauium sapientiae, h. C₃ r.-C₈ v.
Description
Odriozola 264.
Marca tipográfica de Sancho y Sebastián de Nebrija en recto h. a₁₀ y en portada de Aesopi Fabulae
Colofón en verso de B₈ y en verso de h. C₈
Sign.: a¹⁰, A⁸, B⁶, a -b⁸, A -C⁸
Iniciales grabadas
Texto con apostillas marginales
Portada con orla xilográfica
Aesopi Fabulae, con portadilla propia
Title
Embajada a Tarmolán [Manuscrito] / [Ruy González de Clavijo]

Author
Date
entre 1401 y 1500?
Edition
S.XV
Type
Manuscrito
Subject
Physical description
II, 153 h. (2 col., 27 - 29 lín.); 31 x 23 cm

Call number
Mss/9218
PID
bdh0000096056
CDU
91(4)
91(5)
821.1/.2
Content
Dichos, de Catón
Description
PhiloBiblon, BETA manid 1842
Conde de Haro
Sevilla, en casa de Andrea Pescioni, 1582
En el tejuelo: Embajada de Enrique III al Gran Tamorlán
En blanco las h. Iv -II, 110 -11, 137v, 151v y 154v
Iniciales en rojo, azul o verde, decoradas con orlas de motivos vegetales y zoomórficos
Title
Dionysii Catonis Disticha, de moribus ad filium [Texto impreso] :cum notis integris scaligeri, Barthii ... / recensuit, suasque adnotationes addidit Otto Arntzenius

Author
Date
1754
Edition
Amstelaedami : Officina Schouteniana
Edition
Editio altera auctori [et] emendatior
Type
Libro
Subject
Physical description
LXXVI, 578, [36], [1] h. de grab.; 8º

Call number
U/2105
PID
bdh0000104887
CDU
82
Related collections
Obras Maestras > Literatura
Description
Sign.: [ ], * -4*⁸, 5*⁶, A -Z⁸, 2A -2P⁸, 2Q⁴
Port. a dos tintas
La hoja de grab. calc.: "S. Fokke inv. et fec."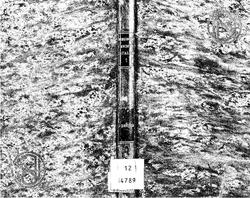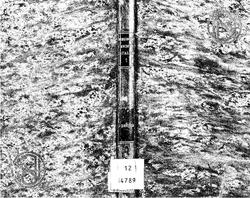 Title
Llibre de paraules e dits de savis e filosofs :los proverbis de Salomo, lo llibre de Cato : fets estampar complets per primera vegada ab un pròlech y documents / per en Gabriel Llabrés y Quintana ; [compilador] Jafudà Bonsenyor

Author
Date
1889
Edition
[S.l.] : [s.n.] (Palma de Mallorca)
Type
Libro
Subject
Physical description
XXXIX, 148 p.; 21 cm

Call number
12/647890
PID
bdh0000108527
CDU
17
17(089.3)
Description
Índice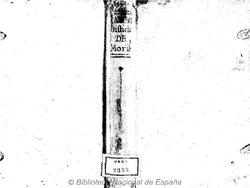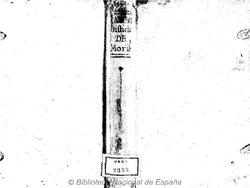 Título uniforme
Title
Disticha de moribus nomine Catonis inscripta cum Latina & Hispanica interpretatione [Texto impreso]. Epitome in singula fere disticha. Diota sapientum cum sua quoque interpretatiuncula. Omnia recognita nonnulla adiecta, quaedem immutata

Author
Date
1556
Edition
Lugduni : apud Ioannem Frellonium (excudebat Michael Syluius)
Type
Libro
Subject
Physical description
136 p.; 8º

Call number
U/2333
PID
bdh0000112489
Related collections
Obras Maestras > Literatura
Description
Existe emisión por cambio de costeador y marca tipográfica en portada: Lugduni : apud Antonium Vincentium, 1556
El impresor consta en el colofón
Marca tipográfica en portada de Frellon
Sign.: A -H⁸, I⁴
©2019 BNE - Pº de Recoletos 20-22
28071 Madrid Tel.: (34) 91 580 78 00