Records per page:
Order by: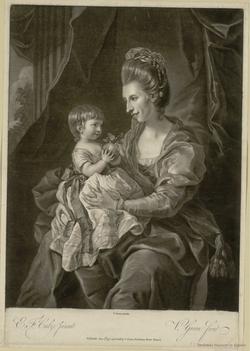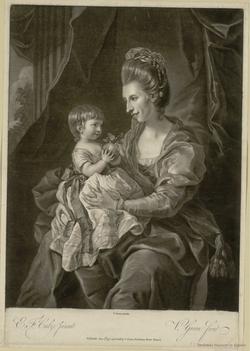 Title
[Lady Elizabeth Pennyman] / E. F. Calze pinxit ; V. Green fecit

Author
Date
1772
Edition
[S. l.] : Publish'd and Sold by V. Green, Salisbury Street Strand
Type
Dibujos, grabados y fotografías
Subject
Pennyman, Elizabeth, Lady ( - 1815)
Grabados de retrato - Gran Bretaña - S.XVIII
Maneras negras - Gran Bretaña - S.XVIII
Physical description
1 estampa : manera negra; huella de 455 x 330 mm, en hoja de 468 x 344 mm

Call number
IBR/2322
PID
bdh0000179736
Summary
Casi figura entera, sentada de perfil, a la izquierda. Tiene en sus rodillas un niño pequeño con una manzana en la mano
Description
Páez, Elena. Iconografía Britana p.527 (Pennyman, Elizabeth).
O'Donoghue, Freeman. Catalogue of engraved British portraits... v. 3, p. 447, n. 1 (Pennyman, Elizabeth).
Título tomado de Iconografía Britana
Firma del pintor E. F. Calze en el borde inferior izquierdo, y del grabador V. Green en el derecho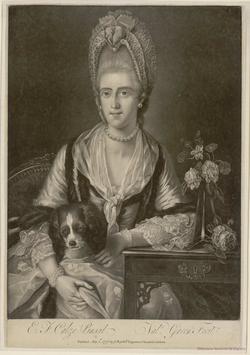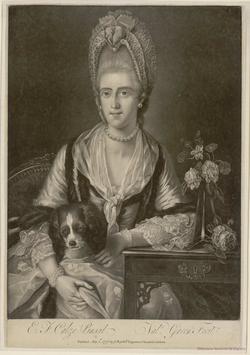 Title
[Polly Kennedy] / E. F. Calze Pinxit. ; Vale. Green fecit.

Author
Date
1771
Edition
London : by J. Boydell engraver, in Cheapside
Type
Dibujos, grabados y fotografías
Subject
Kennedy, Polly (m. 1781)
Mujeres - Retratos
Cortesanas - Gran Bretaña
Grabados de retrato - Gran Bretaña - S.XVIII
Maneras negras - Gran Bretaña - S.XVIII
Physical description
1 estampa : manera negra; mancha de 370 x 289 mm, en hoja de 407 x 298 mm

Call number
IBR/1728
PID
bdh0000180299
Summary
Retrato de 3/4 de figura, de frente, sentada junto a una mesa, sobre la que apoya el brazo izquierdo. Con un perrillo en el regazo. Cofia de encajes; collar, pendientes y pulseras de perlas. Rectángulo
Description
Páez, Elena. Iconografía Britana p. 393, n. 1 (Kennedy, Polly).
O'Donoghue, Freeman. Catalogue of engraved British portraits... v. 2, p. 685 n. 1 (Kennedy, Polly).
Título tomado de Iconografía Britana
Según O'Donoghue, la identificación del personaje es dudosa
Firma E. F. Calze, como pintor en el borde inferior izquierdo; Valentine Green, como grabador en el derecho
Datos y fecha de edición tomados del borde inferior de la estampa
©2020 BNE - Pº de Recoletos 20-22
28071 Madrid Tel.: (34) 91 580 78 00