Records per page:
Order by: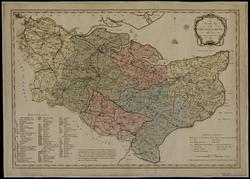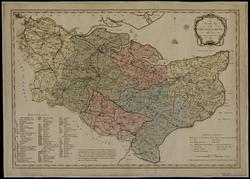 Título uniforme
Title
An Accurate Map of the County of Kent [Material cartográfico] : taken from a late Actual Survey 1783

Map data
Escala [ca. 1:160.900]. 10 Miles [= 10 cm]
Author
Date
1783
Edition
[S.l. : s.n.]
Type
Material cartográfico impreso
Physical description
1 mapa : grab., col.; 51 x 71 cm

Call number
MR/3/I SERIE 9/74
PID
bdh0000189339
CDU
(410.112)
Description
Notas explicativas
Este mapa esta incluido según The British Museum Catalogue of Printed Maps, 1967, en la obra: "The History and Topographical Survey of the County of Kent...By E. Hasted". Canterbury 1778 -1799.
Orientado con lis. - Márgenes graduados. - Leyenda por símbolos. - Clave con números romanos. - Divisiones administrativas diferenciadas por color. - Poblaciones representadas por pequeños planos y por edificaciones. Red de caminos
En el ángulo superior derecho cartela del título en cornucopia con elementos vegetales. Realizada: "Downes Sculpsit Nº 2 Nevils Court, Fetter Lane, London"
En el mar, en la desembocadura del río Támesis, naves de la época.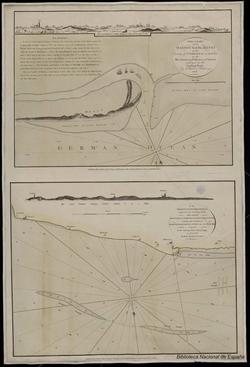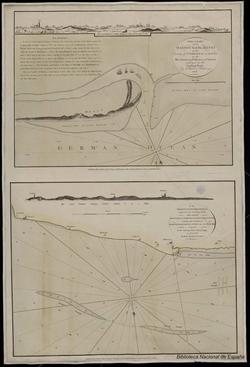 Título uniforme
Title
This Chart of the Harbour of Blakeney in the County of Norfolk [Material cartográfico] : is dedicated to the Merchants and Owners of Vessels employed in the Coasting Trade / by S. Watson, Blakeney ; Downes sculp. Fetter Lane, London

Map data
Escala [ca. 1:14.200]. One Mile [= 13 cm]
Author
Date
1793
Edition
[London] : Publish'd by W. Heather at the Navigation Warehouse, Nº 157 Leadenhall Street
Type
Material cartográfico impreso
Physical description
2 cartas náuticas en 1 h. : grab., col.; 33 x 47 y 36,5 x 48,5 cm en h. de 78 x 52 cm

Call number
MR/5/I SERIE 40/1
PID
bdh0000189551
CDU
(410.134 Blakeney, bahía)
(410.134)
Description
En el ángulo superior izquierdo nota explicativa
Inserta una vista: "The Land, distance 3 Miles, Blakeney Church bearing S. SE.". - 6 x 47 cm
Incluye en la parte inferior de la hoja: "To the Merchants & Owers of Vessels employ'd in the Coasting Trade, This Chart of the Coast of Norfolk from Foulness to Stuky, including the Overfalls of Sheringham, Blakeney, Stuky and the Pollard
Orientado con lis con el N. al SE. de la hoja. Indica la variación magnética. - Relieve por sombreado. - Sondas batimétricas, fondeaderos, e indica, con flechas, la dirección de las corrientes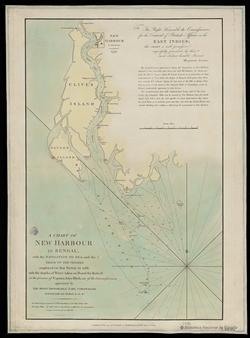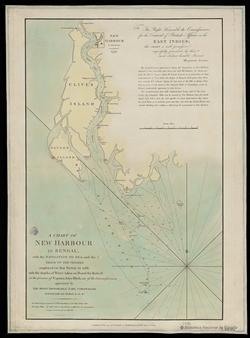 Título uniforme
Title
A Chart of New Harbour in Bengal [Material cartográfico] : whit the Navigation to Sea, and the track of the vessels employed on that Survey in 1788 whit the depths of Water taken on Board the Russell in the presence of Captain John Blyth, one of the Commissioners appointed by the Right Honorable Earl Cornwalis Governor General &c. &c. &c. / Benjamin Lacam ; Downes sculp. Fetter Lane

Map data
Escala [ca. 1:151.800]. 10 Nautic Miles [= 12,2 cm]
Author
Date
1794
Edition
London : by Laurie & Whittle. 53 Fleet Street
Type
Material cartográfico impreso
Physical description
1 carta náutica : grab., col.; 68 x 45 cm

Call number
MR/6/I SERIE 50/243
PID
bdh0000069818
CDU
(540 New Harbour)
Description
En el ángulo superior derecho: " To the Right Honorable the Commissioners for the Controul of Britihs Affairs in the East Indies; this Chart is with permission respecfully presented, by their most obedient humble servant Benjamin Lacam"
Debajo de la dedicatoria nota explicativa sobre el documento
Orientado con lis en nudo de rumbos. - Indica sondas batimétricas, veriles y fondeaderos. - Arbolado. - Poblaciones representadas por conjuntos de edificaciones
©2019 BNE - Pº de Recoletos 20-22
28071 Madrid Tel.: (34) 91 580 78 00