Records per page:
Order by: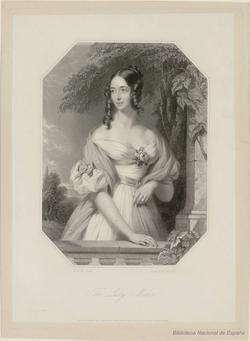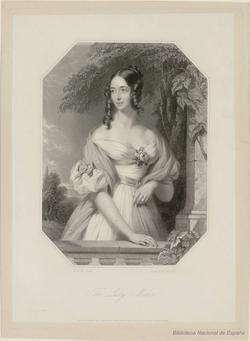 Title
The Lady Mahon / Drawn by J. Lucas ; Engraved by W. & F. Holl

Author
Date
1840
Edition
London : Published for the Proprietor nº 18 & 19 Southampton Place, Euston Square (Printed by Mc Queen)
Type
Dibujos, grabados y fotografías
Subject
Stanhope, Emily Harriet, Condesa (1813 - 1873)
Nobleza - Gran Bretaña
Grabados de retrato - Gran Bretaña - S.XIX
Grabados de puntos - Gran Bretaña - S.XIX
Physical description
1 estampa : grabado de puntos; huella de 338 x 258 mm, en hoja de 358 x 275 mm

Call number
IBR/2647
PID
bdh0000182588
Summary
3/4 de figura, de frente, el rostro hacia la izquierda. La mano derecha, sobre una balaustrada
Description
Páez, Elena. Iconografía Britana p. 600, n. 1 (Stanhope, Emily).
O'Donoghue, Freeman. Catalogue of engraved British portraits... v. 4, p. 175, n. 1 (Stanhope, Emily).
Título tomado de la inscripción en el borde inferior
Firma del dibujante J. Lucas en el borde inferior izquierdo, y del grabador W. & F. Holl en el derecho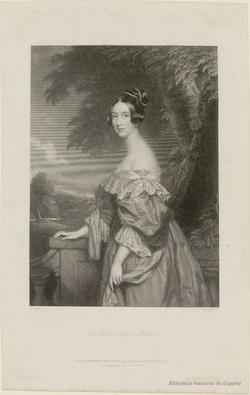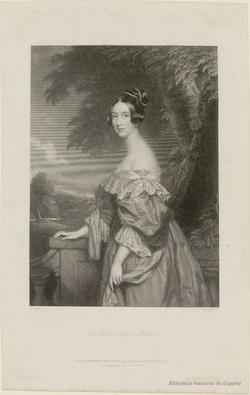 Title
The Viscountess Mahon / J. Lucas ; E. Scriven

Author
Date
1840?
Edition
London : Published for the Proprietor, by Longman & Cº. Paternoster Row (New York : Appleton & Cº)
Type
Dibujos, grabados y fotografías
Subject
Stanhope, Emily Harriet, Condesa (1813 - 1873)
Nobleza - Gran Bretaña
Grabados de retrato - Gran Bretaña - S.XIX
Grabados de puntos - Gran Bretaña - S.XIX
Physical description
1 estampa : grabado de puntos; mancha de 155 x 119 mm, en hoja de 233 x 155 mm

Call number
IBR/2648
PID
bdh0000182590
Summary
3/4 de figura hacia la izquierda, junto a una balaustrada. Paisaje al fondo
Description
Páez, Elena. Iconografía Britana p. 600, n. 2 (Stanhope, Emily).
O'Donoghue, Freeman. Catalogue of engraved British portraits... v. 4, p. 175, n. 2 (Stanhope, Emily).
Título tomado de la inscripción en el borde inferior
Firma del dibujante J. Lucas en el borde inferior izquierdo, y del grabador E. Scriven en el derecho
©2019 BNE - Pº de Recoletos 20-22
28071 Madrid Tel.: (34) 91 580 78 00