Records per page:
Order by: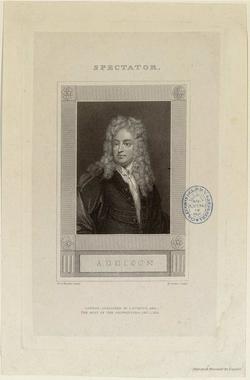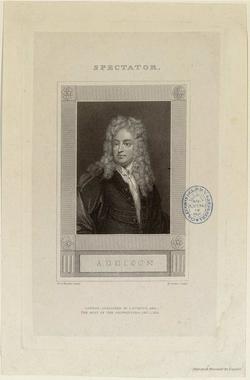 Title
Addison / Sir G. Kneller pinxt. ; W. Finden sculpt

Author
Date
1818
Edition
London : published by J. Bumpus, and the rest of the proprietors; dec. 1
Type
Dibujos, grabados y fotografías
Subject
Addison, Joseph (1672 - 1719)
Grabados de retrato - Gran Bretaña - S.XVII
Buriles - Gran Bretaña - S.XVIII
Physical description
1 estampa : buril; huella de 183 x 122 mm, en hoja de 209 x 145 mm

Call number
IBR/15
PID
bdh0000180000
Summary
Busto casi frontal dentro de un marco rectangular
Description
Inscripción sobre el retrato: "SPECTATOR"
Inscripción en cartela, bajo el retrato: "ADDISON"
Inscripción en el ángulo inferior derecho: "Proof"
Páez, Elena. Iconografía Britana p. 4, n. 5 (Addison, Joseph).
Firma del pintor Sir G. Kneller en el borde inferior izquierdo y del grabador W. Finden en el derecho
Título tomado de la inscripción en cartela
Fecha en el borde inferior, tras el editor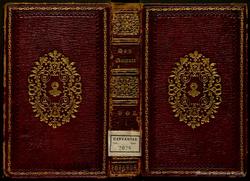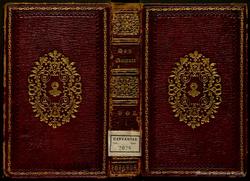 Título uniforme
Title
The life and exploits of Don Quixote de la Mancha [Texto impreso] / translated from the original Spanish by Charles Jarvis ... ; in four volumes ; vol. I [ IV]

Author
Date
1821
Edition
London : Printed by W. Wilson
Type
Libro
Physical description
4 v. : il.; 16 cm

Call number
CERV/220 V.4
CERV/219 V.3
CERV/218 V.2
CERV/217 V.1
CERV.SEDÓ/2028 V. 1
CERV.SEDÓ/2029 V. 2
CERV.SEDÓ/2030 V. 3
CERV.SEDÓ/2031 V. 4
PID
bdh0000191959
Description
Río y Rico 490.
Las il. son 4 h. de lám. al comienzo de cada vol., tres de ellas firmadas: "Wainwright sculp."
©2020 BNE - Pº de Recoletos 20-22
28071 Madrid Tel.: (34) 91 580 78 00