Records per page:
Order by: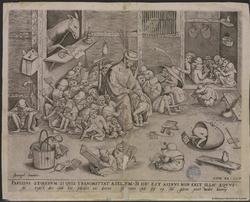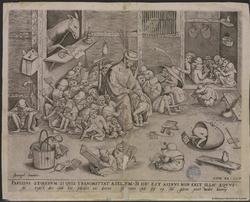 Title
[El asno en la escuela] [Material gráfico] / PAME [monograma] ; Bruegel inventor

Author
Date
1557
Edition
[Amberes] : COCK EX.
Type
Dibujos, grabados y fotografías
Subject
Physical description
1 estampa : buril; 235 x 305 mm

Call number
Invent/2996
INVENT/36998
Invent/36998
INVENT/36998
PID
bdh0000025259
Description
Inscripción en el margen inferior en dos líneas la primera en latín y la segunda en flamenco: PARISIOS STOLIDUM... EQUS. Al... keeren.
Hollstein. Dutch and flemish v. , p. 29, 52 (Heyden).
Hollstein. Dutch and flemish v. 3, p. 281, 142 (Brueghel).
Riggs. Hieronymus Cock. New York, London, 1977 p. 322.
Grabados flamencos y holandeses del siglo XVI p. 78 -79, n. 32.
Mielke, Hans. Pieter Bruegel. Die Zeichnungen. Amberes, 1996 p. 155, 32.
La fecha después del nombre de Cock
Dibujo de Brueghel en Berlín fechado en 1556
La firma de Brueghel en la esquina inferior izquierda, el monograma de Heyden en la parte superior izquierda en el buzón
Hollstein trascribe el monograma como PAVE. P. van der Heyden es conocido también como Petrus á Merica
2º estado. Se ha corregido el número 6 de la fecha con un 7
El nombre de Cock en la esquina inferior derecha
Title
[La caridad] / BRUEGEL

Author
Date
1559
Edition
[Amberes] : H.cCock excude.
Type
Dibujos, grabados y fotografías
Subject
Physical description
1 estampa : buril; 225 x 295 mm

Call number
INVENT/37001
PID
bdh0000238732
Description
Título en latín en la parte inferior central del grabado: CHARITAS
Inscripción en el margen inferior del grabado en dos líneas: SPERES TIBI ACCIDERE QVOD ALTERI ACCIDIT, ...CONSTITVTVS IMPLORAT
Hollstein. Dutch and flemish v. 9, p. 28, 37 -43 (Heyden).
Hollstein. Dutch and flemish v. 3, p. 278 -279, 132 -138 (Brueghel).
Riggs. Hieronymus Cock. New York, London, 1977 p. 320, 32.
The illustrated Bartsch v. 56 Supplement, p. 265 -271, .070:1 -:7.
Mielke, Hans. Pieter Bruegel. Die Zeichnungen. Amberes, 1996 p. 168 -174, 45 -51.
Hollstein atribuye los grabados de "Las siete virtudes" a Philippe Galle; otros autores a Pieter van der Heyden
Dibujos de Brueghel relacionados con esta serie en Amsterdam, Rotterdam, Berlín, Bruselas y la Lugt Collection
Firmada por Brueghel como inventor en la esquina inferior derecha y sin firma de grabador
Firmada en la esquina inferior izquierda por H. Cock como editor
De la estampa 1 y de la 7 hay dos ejemplares
La serie completa consta de siete estampas. Las siete virtudes (3)