Records per page:
Order by: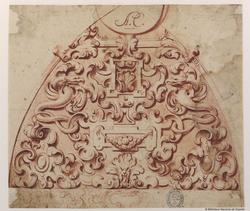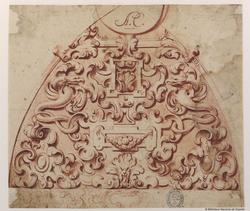 Title
[Decoración de yeserías] [Material gráfico] / AC [monograma]

Author
Date
1660
Type
Dibujos, grabados y fotografías
Subject
Decoración
y
ornamentación
arquitectónica
-
España
Arquitectura barroca - España
Dibujos de arquitectura - España - S.XVII
Dibujos a sanguina - España - S.XVII
Physical description
1 dibujo sobre papel amarillento verjurado : sanguina, compás, aguada de sanguina y lápiz negro; imagen en forma de luneto 218 x 254 mm

Call number
DIB/13/2/57
PID
bdh0000019059
Description
Barcia. Catálogo colección dibujos B.N. 1906 310.
Muller, P.E. The drawings of Antonio del Castillo y Saavedra. 1963 pp. 50, 63, 295 -296, n. 210.
Zueras Torrens, F. Antonio del Castillo. 1982 p. 129, n. 60.
Dibujos de arquitectura y ornamentación de la BN. S. XVI -XVII. 1991 n. 70.
Navarrete Prieto, B. y Garcia de la Torre, F. Antonio del Castillo, 1616 -1668. 2008 pp. 608 -611, n. 186.
P. Muller (1963) lo fecha a mediados de los 50
V. Tovar (1991) en la primera mitad del s. XVII, en base a la semejanza con el trabajo realizado en esa época en círculos andaluces, relacionados con estucadores italianos
B. Navarrete y F. García de la Torre (2008) se inclinan a datar el dibujo hacia 1660 -1665
De Antonio del Castillo, según Barcia y V. Tovar
P. Muller lo corrobora y destaca el tratamiento escultórico logrado con claroscuros de sanguina, y el uso de regla y compás
Título tomado de V. Tovar
Título de Barcia: Dibujo para la ornamentación de una bóveda
Título de P. Muller: Sketch for ornamentation
Iniciales del autor entrelazadas, con el mismo tono de aguada del dibujo, en la parte superior del luneto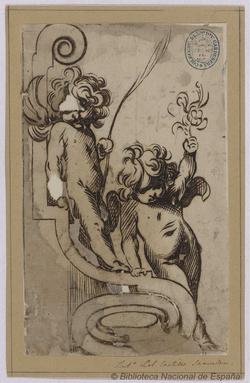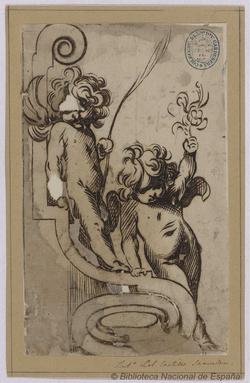 Title
[Estudio para proyecto decorativo con ángeles] [Material gráfico]

Author
Date
entre 1660 y 1669?
Type
Dibujos, grabados y fotografías
Subject
Decoración
y
ornamentación
arquitectónica
-
España
Arquitectura barroca - España
Dibujos de arquitectura - España - S.XVII
Dibujos a pluma de ave - España - S.XVII
Physical description
1 dibujo sobre papel amarillento verjurado : pluma gruesa y tinta marrón oscura; 174 x 107 mm

Call number
DIB/13/2/55
PID
bdh0000019874
Description
Barcia. Catalogo colección dibujos B.N. 1906 308.
Muller, P. The drawings of Antonio del Castillo y Saavedra p. 163 -164, 295, no 209.
Dibujos del Museo de Bellas Artes de Córdoba p. 100 -103.
Homenaje a Alonso Cano p. 38 -39.
Valverde, J. El pintor Antonio del Castillo Boletín de la Real Academia de Córdoba, de Ciencias, Bellas Letras y Nobles Artes. Año XXXII, n. 82 (jul. -dic. 1961), p. 58, n. 13.
Zueras Torrens, F. Antonio del Castillo p. 129, n. 61.
Navarrete Prieto, B. y Garcia de la Torre, F. Antonio del Castillo, 1616 -1668. 2008 p. 614 -617, n. 188.
P. Muller lo fecha en la década de 1660
F. Garcia de la Torre fecha el dibujo similar de Córdoba en la etapa final del artista, hacia 1660
Barcia lo reconoce como obra de A. del Castillo
Estudio parcial de un dibujo conservado en el Museo de Bellas Artes de Córdoba ("Proyecto decorativo con ángeles") catalogado como obra de A. del Castillo por P. Muller y F. Gª de la Torre
Tít. basado en la catalogación del dibujo del Museo de Córdoba
Tít. de Barcia: Aleta arquitectónica decorativa
Tít. de P. Muller: Sketches for sculptural ornament with putti
Gª de la Torre señala la mayor tosquedad de este dibujo con respecto al cordobés, cambios en la actitud de los ángeles y la coincidencia en el daño en el mismo lugar de ambos soportes
Plumeado característico para el sombreado y volumen
©2019 BNE - Pº de Recoletos 20-22
28071 Madrid Tel.: (34) 91 580 78 00