Records per page:
Order by: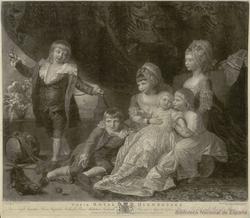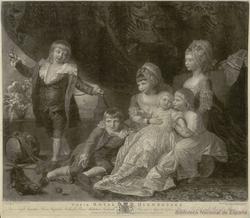 Title
THEIR ROYAL HIGHNESSES / painted by B. West, Historical Painter to his Majesty ; engraved by V. Green Metzotinto Engraver to his Majesty & the Elector palatine

Author
Date
1778
Edition
London : Published by John Boydell Engraver in the Cheapside
Type
Dibujos, grabados y fotografías
Subject
Ernesto
Augusto
I
,
Rey
de
Hannover
Augusto Federico Duque de Sussex (1773 - 1843)
Adolfo Federico, Duque de Cambridge (1774 - 1850)
Augusta Sofía Princesa (1768 - 1840)
Elizabeth Princess of England (1770 - 1840)
María, Duquesa de Gloucester (1776 - 1857)
Reyes y soberanos
Grabados de retrato - Gran Bretaña - S.XVIII
Maneras negras - Gran Bretaña - S.XVIII
Physical description
1 estampa : manera negra; huella de 504 x 580mm, en hoja de 518 x 592 mm

Call number
IBR/3051
PID
bdh0000182608
Summary
Cinco de ellos, sentados a la derecha de la estampa, forman un grupo que contempla al príncipe Ernesto Augusto, que en pie juega con un cordón delante de ellos
Description
Inscripcion en el borde inferior: "THEIR ROYAL HIGHNESSES / Prince Ernest Augustus, Prince Augustus Frederick, Prince Adolphus Frederick, Princess Augusta Sophia, Princess Elizabeth and Princess Mary"
Inscripción en el escudo: "HONI SOIT QUI MAL Y PENSE / DIEU ET MON DROITO"
Páez, Elena. Iconografía Britana p. 705 (Seis hijos de Jorge III).
O'Donoghue, Freeman. Catalogue of engraved British portraits... v. 5, p. 37 (Six children of George III).
Firma del pintor B. West en el borde inferior izquierdo, y del grabador V. Green en el derecho
Título tomado de la inscripción en el borde inferior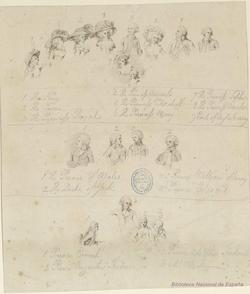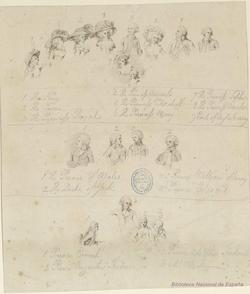 Title
[Jorge III y su familia]

Author
Date
1789
Edition
[S.l. : s.n.
Type
Dibujos, grabados y fotografías
Subject
Jorge III, Rey de Gran Bretaña
Carlota Sofia, Reina consorte de Jorge III, rey de Gran Bretaña
Carlota Augusta, Reina de Wütemberg (1776 - 1828)
Augusta Sofía Princesa (1768 - 1840)
Elizabeth Princess of England (1770 - 1840)
María, Duquesa de Gloucester (1776 - 1857)
Sofía, Princesa de Inglatera (1777 - 1848)
Amelia, Princesa de Inglaterra (1783 - 1810)
Jorge IV, Rey de Gran Bretaña
Federico Augusto Duque de York y Albany (1763 - 1827)
Guillermo IV, Rey de Inglaterra
Eduardo, Duque de Kent (1767 - 1820)
Ernesto
Augusto
I
,
Rey
de
Hannover
Augusto Federico Duque de Sussex (1773 - 1843)
Adolfo Federico, Duque de Cambridge (1774 - 1850)
West, Benjamin (1738 - 1820)
Mujeres - Retratos
Reyes y soberanos - S.XVIII
Nobleza - Gran Bretaña
Princesas - Retratos
Grabados de retrato - Gran Bretaña - S.XVIII
Litografías - Gran Bretaña - S.XVIII
Physical description
1 estampa : litografía; mancha de 190 x 170 mm, en hoja de 240 x 210 mm

Call number
IBR/3050
PID
bdh0000182601
Summary
Forman tres grupos de alto en bajo, todos en busto perdido, de tamaño pequeño, numerados y rotulados a lápiz
Description
Páez, Elena. Iconografía Britana p. 705, (Jorge III y su familia).
WWW.Britishmuseum, 3 -12 -2014 2010,7081.7416 (prueba definitiva).
Título tomado de Páez
Según el Britishmuseum, dibujado por Johann Heinrich Ramberg
Prueba de estado antes de la letra
Fecha tomada del Britishmuseum
©2020 BNE - Pº de Recoletos 20-22
28071 Madrid Tel.: (34) 91 580 78 00