Records per page:
Order by: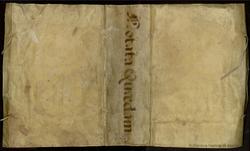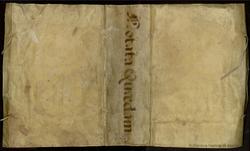 Title
Papeles varios [Manuscrito] / escritos y recopilados por Juan Vásquez del Marmol

Author
Date
entre 1501 y 1700?
Edition
S.XVI -XVII
Type
Manuscrito
Subject
Imprenta - España - Historia - Fuentes
Censura - España - Fuentes
Inquisición - España - Historia - Fuentes
Medicina - Fórmulas y recetas - Obras anteriores a 1800
Diccionarios políglotas
España - Genealogía - Fuentes
Physical description
596 h. : il.; 34 x 24 cm

Call number
Mss/9226
PID
bdh0000096041
CDU
94(460)
27
615
030
Summary
Recopilación de textos latinos. Noticias históricas, genealógicas y eclesiásticas, y otras notas varias. Recetario. Relación de libros y papeles privados prestados en Granada, 1605-1610. Notas relativas a la impresión de libros y a su censura por la Inquisición. Vocabulario flamenco-español. Diálogo llamado Lucidario, de Honorius Augustodunensis; traducción castellana de la edición de Milán de 1493
Description
Manuscritos e impresos
Bouza, Fernado, Communication Knowledge and Memory in Early Modern Spain, Philadelphia, Univ. of Pennsuylvania, 2004 pp. 42 -82.
Bouza, Fernado, Corre manuscrito : una historia cultural del Siglo de Oro, 2001 p. 50.
Martín Abad, Mss. Bibl. BN p. 90, n. 153.
Texto en español, italiano, flamenco y latín
Numerosas h. y vueltos en blanco
Errores en la foliación original a lápiz
Deteriorado
Dibujos a pluma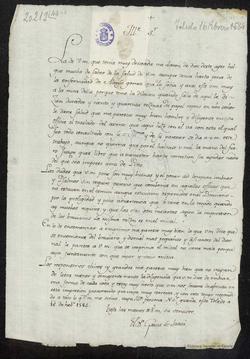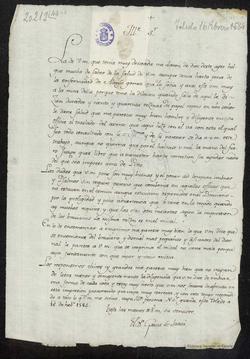 Title
Cartas del Doctor García de Loaisa a Juan Vázquez del Mármol

Author
Date
entre 1700 y 1799?
Edition
S. XVIII
Type
Manuscrito
Subject
Physical description
2 h.; 31 x 22 cm y menos

Call number
MSS/20212/44/1-2
PID
bdh0000186700
CDU
94(460)
Summary
Copias de dos cartas fechadas en Toledo el 16 de febrero de 1584 y San Lorenzo el 28 de septiembre de 1588
©2020 BNE - Pº de Recoletos 20-22
28071 Madrid Tel.: (34) 91 580 78 00