Records per page:
Order by: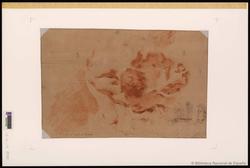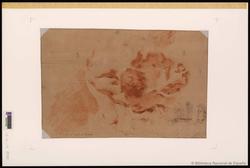 Title
[Estudio de figura masculina] [Material gráfico]

Author
Date
1720
Type
Dibujos, grabados y fotografías
Subject
Dibujos de academia - Italia - S.XVIII
Dibujos mitológicos - Italia - S.XVIII
Dibujos a sanguina - Italia - S.XVIII
Physical description
1 dibujo sobre papel agarbanzado oscuro verjurado : sanguina y clarión, trazos de lápiz negro; 265 x 404 mm

Call number
DIB/13/13/6
PID
bdh0000184088
Summary
Muy inclinado, apretando con ambas manos una serpiente
Description
Anotación manuscrita a pluma y tinta parda en el margen inferior, que Barcia supone de alguno de los hijos del pintor: "estudio orig.l de Tiepolo"
En el verso, a sanguina, variante del dibujo del recto: Estudio de figura masculina
Barcia. Catalogo colección dibujos BN, 1906 n. 8343.
Lafuente Ferrari, E. Grabados y dibujos de Tiépolo, 1935 n. 68, lám. XIV.
De Tiepolo à Goya, 1956 n. 162.
Morassi, A. A complete catalogue of the paintings of G. B. Tiepolo, 1962 p. 54, fig. 15.
Knox, George. Giambattista and Domenico Tiepolo, 1980 v. I, n. M.175.
Madrid, BNE, 1935
Burdeos, Galerie des Beaux -Arts, 1956
Barcia lo cataloga como obra de G. B. Tiepolo
Lafuente Ferrari recoge la atribución de Barcia y la confirma
Para Knox es una obra de G. B. Tiepolo de gran calidad y de realización temprana
Para M. Mena es obra indudable de Giambattista Tiepolo, fechada por el estilo en torno a 1720
Título tomado de Barcia
Línea de encuadre a lápiz grafito en el borde del papel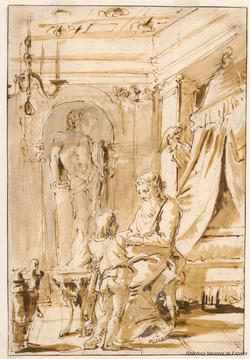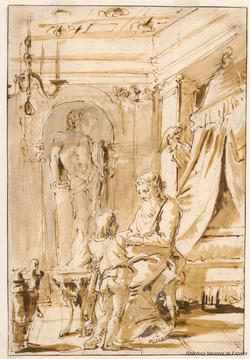 Title
[La educación del príncipe]

Author
Date
entre 1700 y 1799?
Type
Dibujos, grabados y fotografías
Subject
Physical description
1 dibujo sobre papel verjurado amarillento : pluma, pincel, lápiz negro, tinta y aguadas pardas claras y marrones; 281 x 190 mm

Call number
DIB/18/1/2461
PID
bdh0000205926
Description
Italian drawings of the 17th and 18th centuries from the Biblioteca Nacional of Madrid. 1988 p. 102 -103, cat. 75.
New York, The Spanish Institute, noviembre 1989 - enero 1990
Según Manuela Mena (1988), la escena puede referirse a la educación de los príncipes en la antigüedad clásica. Podría tratarse de una escena de la vida de Alejandro el Grande, protegido del filósofo Aristóteles; o puede representar al hijo de Ulises, Telémaco, y su mentor
Título y nombre del autor tomado de Manuela Mena
Línea de encuadre a pluma y tinta negra
©2019 BNE - Pº de Recoletos 20-22
28071 Madrid Tel.: (34) 91 580 78 00