Records per page:
Order by: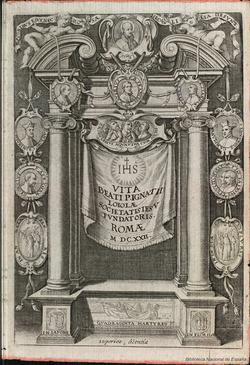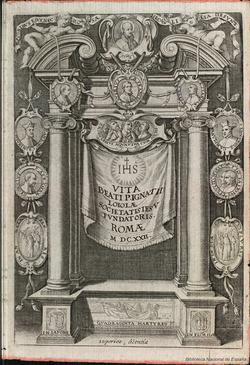 Title
VITA BEATI P. IGNATII LOIOLAE SOCIETATIS IESU FUNDATORIS [Material gráfico] : [ilustraciones]

Author
Date
1622
Edition
ROMÆ : [s.n.]
Type
Dibujos, grabados y fotografías
Subject
Ignacio de Loyola, Santo (1491 - 1556)
Grabados calcográficos - Bélgica - S.XVII
Buriles
-
Bélgica
-
S.XVII
Aguafuertes - Bélgica - S.XVII
Physical description
81 estampas : aguafuerte y buril; 170 x 118 mm en h. de 182 x 125 o menos

Call number
ER/1503 ILUSTRACIONES
PID
bdh0000199488
Description
Todas con inscripciones latinas de varios versos explicando la escena en el margen inferior de la estampa
De los dos ejemplares de la BN el ER/1636 está incompleto: falta la portada y la última estampa de la canonización, además este tiene un retrato diferente al del ER/1503 que quizá era el que se publicó en 1609
Hollstein. Dutch and flemish v. 7, p. 57, 169 -249.
Catalogue des estampes gravées d'après P. P. Rubens, 1873 p. 213, n. 12.
Vida de San Ignacio de Loyola en imágenes, 1992
Vita Ignatii. Acción y contemplación, 2005
Sin firmas de grabador Hollstein atribuye esta serie a C. Galle padre; Navas Rodríguez los atribuye a J.B. Barbé atribución que hemos adoptado por argumentar que sí hubo otra edición, de 1610, de 14 grabados hechos por Cornelis y Theodorus Galle
Sin firmas de dibujante los dos autores atribuyen los dibujos a un joven Rubens, uno se conserva en el Museo del Louvre y otro en la National Gallery of Scotland en Edimburgo
Según Hollstein la primera publicación de la obra es del año 1609
Title
[Retrato de San Ignacio de Loyola] [Material gráfico]

Author
Date
1622?
Edition
[Roma? : s.n.
Type
Dibujos, grabados y fotografías
Subject
Ignacio de Loyola, Santo (1491 - 1556) - Retratos
Grabados de retrato - Bélgica - S.XVII
Grabados calcográficos - Bélgica - S.XVII
Buriles
-
Bélgica
-
S.XVII
Aguafuertes - Bélgica - S.XVII
Physical description
1 estampa : buril y aguafuerte; 148 x 97 mm en h. de 183 x 123 mm

Call number
ER/1503(2)
PID
bdh0000199606
Description
Inscripción debajo del retratado dentro de una cartela: "Custodiatis attenté, [...] anima vestra. Ios.22."
Iconografía Hispana 4459 -9.
Hollstein. Dutch and flemish v. 7, p. 57, 169 -249.
Catalogue des estampes gravées d'après P. P. Rubens, 1873 p. 213, nº 12.
Vida de San Ignacio de Loyola en imágenes, 1992
Vita Ignatii. Acción y Contemplación, 2005
Fecha tomada de la portada tipográfica
Sin firmas de grabador Hollstein la atribuye a C. Galle padre; Navas Rodríguez la atribuye a J.B. Barbé atribución que hemos adoptado por argumentar que sí hubo otra edición, de 1610, de 14 grabados hechos por Cornelis y Theodorus Galle
Sin firmas de dibujante los dos autores atribuyen los dibujos a un joven Rubens, uno se conserva en el Museo del Louvre y otro en la National Gallery of Scotland en Edimburgo
©2019 BNE - Pº de Recoletos 20-22
28071 Madrid Tel.: (34) 91 580 78 00