Records per page:
Order by: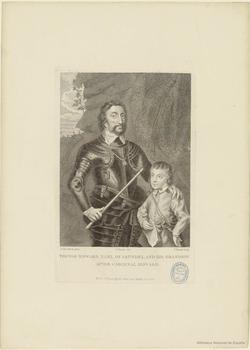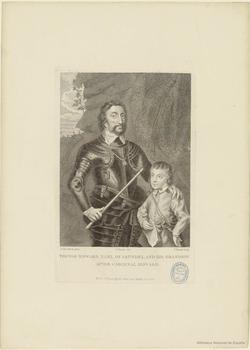 Title
[Thomas Howard y su nieto] / A. Van Dyck pinx ; G. Vertue del ; J. Record sculp

Author
Date
1784
Edition
S. l. : Pub. by J. Thane Rupert Street Hay Market, Jan 1
Type
Dibujos, grabados y fotografías
Subject
Arundel and Surrey, Thomas Howard, Conde de (1586 - 1646)
Grabados de retrato - Gran Bretaña - S.XVII
Buriles - Gran Bretaña - S.XVIII
Physical description
1 estampa : buril; huella de 213 x 145 mm, en hoja de 342 x 258 mm

Call number
IBR/152
PID
bdh0000180021
Summary
3/4 de figura hacia la derecha. Armadura. Distintivo de la Jarretera. En la mano derecha, bastón de mando ; la izquierda sobre el hombro de su nieto, que le mira
Description
Inscripción en el borde inferior: "THOMAS HOWARD EARL OF ARUNDEL AND HIS GRANDSON / AFTER CARDINAL HOWARD"
Páez, Elena. Iconografía Britana p. 34, n. 6 (Arundel and Surrey, Thomas).
O'Donoghue, Freeman. Catalogue of engraved British portraits... p. 76, n. 15 (Arundel and Surrey, Thomas).
Firma del pintor A. van Dyck en el borde inferior izquierdo, del dibujante G. Vertue en el centro, y del grabador J. Record en el derecho
Título dado por el catalogador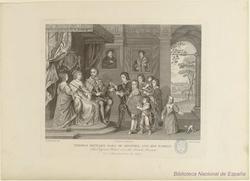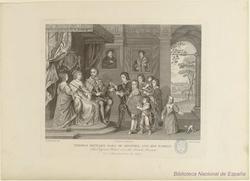 Title
THOMAS HOWARD EARLS OF ARUNDEL, AND HIS FAMILY / A. Van Dyck inv. ; P. Fruytiers pinx. 1643 ; After Vertue

Author
Date
entre 1710 y 1756?
Edition
[Londres] : Pub. by J. Thane, Rupert Street, Hay Market
Type
Dibujos, grabados y fotografías
Subject
Arundel, Thomas Howard, Conde de (1585 - 1646)
Arundel, Alethea Talbot Condesa de
Howard, Henry Frederick
Howard, Thomas
Howard, Gilbert
Howard, William
Howard, Charles
Norfolk, Thomas Howard, Conde de (1473 - 1554)
Surrey, Henry Howard, Earl of (1517? - 1547)
Nobleza - Gran Bretaña
Grabados de retrato - Gran Bretaña - S.XVII
Buriles - Gran Bretaña - S.XVIII
Physical description
1 estampa : buril; huella de 188 x 225 mm, en hoja de 247 x 341 mm

Call number
IBR/3055
PID
bdh0000182619
Summary
A la izquierda de la estampa, sentados bajo un dosel, están Thomas Howard, Conde de Arundel, y su mujer, Alathea Talbot, ambos con manto de armiño; a la derecha de la Condesa y en pie: Lady Catherine daughter of Henry Lord Maltraverd. Frente a los Condes y formando un apretado grupo, sus cinco hijos: Henry Frederick, Thomas, Gilbert, William y Charles, que traen al padre las armas: el mayor, la espada; otro, el casco, y el más pequeño, el escudo, en el que está representada una batalla romana. A la derecha, una criada enana y un perrillo; arcada al fondo con vista de Amberes a lo lejos; colgados de la pared los retratos de Thomas, 3er Duque de Norfolk, y Henry, conde de Surrey, a quienes pertenecieron las armas que ahora presentan sus hijos al Conde
Description
Inscripción en el borde inferior: "THOMAS HOWARD EARLS OF ARUNDEL, AND HIS FAMILY / The Original Picture is in the British Museum"
Páez, Elena. Iconografía Britana p. 707, n. 2 (El Conde de Arundel y su familia).
O'Donoghue, Freeman. Catalogue of engraved British portraits... v. 5, p. 41, n. 1 (Arundel Family).
Título tomado de la inscripción en el borde inferior
Firma del dibujante A. Van Dyck en el borde inferior izquierdo, del pintor P. Fruytiers en el central y del grabador Vertue en el derecho
Fecha tomada por el periodo del grabador
©2019 BNE - Pº de Recoletos 20-22
28071 Madrid Tel.: (34) 91 580 78 00