Records per page:
Order by: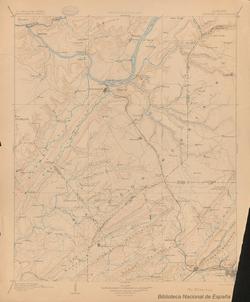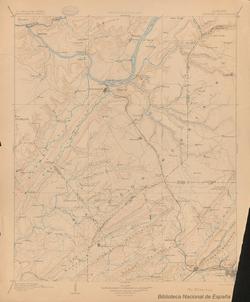 Title
Gadsden quadrangle, Alabama / U.S. Geological Survey, Charles D. Walcott, Director ; Henry Gannett, Chief Geographer ; Gilbert Thompson, Geographer in charge ; Topography by Louis Nell

Map data
Scale 1:125.000
Author
Date
1905
Edition
[Washington, D.C.] : U.S. Geological Survey
Edition
Ed. of Sept. 1905
Type
Material cartográfico impreso
Subject
Physical description
1 h. : col.; 51 x 42 cm

Call number
MR/33-41/3896
PID
bdh0000240448
CDU
(761 Gadsden)
Description
Al verso: Nota informativa y clave de la hoja
Escala también expresada en otras unidades
Márgenes graduados. - Relieve por curvas de nivel y puntos acotados. - Hidrografía. - Red de carreteras y ferrocarriles. - Clave por símbolos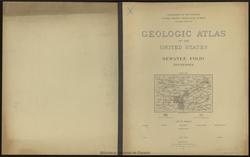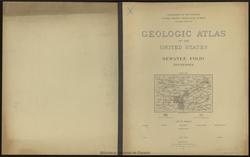 Título uniforme
Title
Geologic Atlas of the United States [Material cartográfico]: Sewanee folio : Tennessee / Engraved and printed by the U.S. Geological Survey ; Bailey Willis, editor of geological maps ; S. J. Kübel, chief engraver

Map data
Escala 1:125.000
Author
Date
1894
Edition
Washington, D.C. : United States Geological Survey. J. W. Powel
Edition
Library ed.
Type
Material cartográfico impreso
Physical description
4 mapas : col.; 44,5 x 36,5 cm en h. de 55 x 46 cm

Call number
MR/33-41/3838
PID
bdh0000240364
CDU
912(768 Sewanee)"1894"
(768 Sewanee)
Content
1. Tennessee : Sewanee Sheet : Topography. - Ed. of July 1894. 2. Tennessee : Sewanee Sheet : Areal Geology. - Ed. of July 1894. 3. Tennessee : Sewanee Sheet : Economic Geology. - Ed. of July 1894. 4. Tennessee : Sewanee Sheet : Structure Sections. - Ed. of July 1894. - En el margen lateral derecho inserta 3 secciomes geológicas
Description
Escala también expresada en 6 Miles [= 7,7 cm]
Márgenes graduados. - Relieve por curvas de nivel. - Hidrografía. - Ciudades representadas por planos. - Clave por símbolos para indicar los distintos tipos de suelos y su edad geológica, fallas, secciones, minas, canteras, áreas productivas de carbón, ...
Todos los mapas tienen comunes los siguientes responsables: Henry Gannett, Chief Topographer ; Gilbert Thompson, Chief geographer in charge ; Control Line and Topography by L. Nell and M. Hackett. Surveyed in 1886 and 1890 -93 -94. Los mapas nº 2, 3 y 4 tienen también responsables comunes: Chas. D. Walcott Geologist in charge ; Geology by C. Willard Hayes ; Assisted by Cyrus C. Babb. Surveyed in 1893
Entre el título y la mención de responsabilidad figura un mapa índice
Los mapas están encuadernados en forma de libro y tienen varias hojas explicativas
Title
Tallapoosa Sheet, Georgia Alabama / U.S. Geological Survey, Charles D. Walcott, Director ; Henry Gannett, Chief Topographer ; Gilbert Thompson, Geographer in charge 1886 87 ; H.M. Wilson, Chief Geographer in charge 1895 ; Topography by Louis Nell and M. Hackett

Map data
Escala 1:125.000
Author
Date
1897
Edition
[Washington, D.C.] : U.S. Geological Survey
Edition
Ed. of May 1897
Type
Material cartográfico impreso
Subject
Physical description
1 h. : col.; 55 x 47 cm

Call number
MR/33-41/4579
PID
bdh0000243198
CDU
(758 Tallapoosa)
(761)
Description
Al verso: Nota explicativa sobre el Mapa Topográfico de Estados Unidos
Escala también expresada en 5 Miles [= 6,4 cm]
Abarca además una pequeña parte de Alabama
Márgenes graduados. - Relieve por curvas de nivel. - Hidrografía. - Red de carreteras y ferrocarriles. - Ciudades representadas por planos. - Clave por símbolos
©2021 BNE - Pº de Recoletos 20-22
28071 Madrid Tel.: (34) 91 580 78 00