Records per page:
Order by:
Title
Sierraville shett, California / U.S. Geological Survey, J.W. Powell, Director ; A.H. Thompson, Geographer ; E.M. Douglas, Topographer in charge ; Triangulation by E.M. Douglas ; Topography by A.F. Dunnington and R.H. Chapman

Map data
Scale 1:125.000
Author
Date
1899
Edition
[Washington, D.C.] : U.S. Geological Survey
Edition
Ed. of Sept. 1894, repr. Jan. 1899
Type
Material cartográfico impreso
Subject
Physical description
1 h. : col.; 55,5 x 47 cm

Call number
MR/33-41/4375
PID
bdh0000241890
CDU
(794 Sierraville)
Description
Al verso: Nota informativa y clave de la hoja
Escala también expresada en otras unidades
Márgenes graduados. - Relieve por curvas de nivel. - Hidrografía. - Red de caminos y ferrocarriles. - Ciudades representadas con planos. - Clave por símbolos. - Costas sombreadas con un fino rayado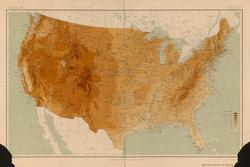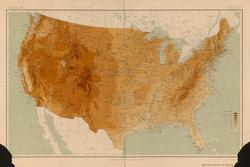 Título uniforme
Title
United States relief map [Material cartográfico] / Henry Gannett ; Engraved by U.S.G.S

Map data
Escala [ca. 1:5.364.500]. 300 Stat. Miles [= 9 cm]
Author
Date
1899?
Edition
[Washington] : U.S. Geological Survey, J.W. Powell, Director
Edition
Ed. 1896, [reimp. 1899?]
Type
Material cartográfico impreso
Physical description
1 mapa : col.; 44 x 71 cm

Call number
MR/33-41/3844
PID
bdh0000240389
CDU
(73)
Description
Márgenes graduados. - Relieve por tintas hipsométricas. - Red hidrográfica. - Divisiones administrativas
Fecha de publicación tomada de los mapas con signatura Mr/39/3843 y Mr/39/3848 por ser muy similares
Título uniforme
Title
United States base map [Material cartográfico] / Compiled by Henry Gannett ; Engraved by U.S.G.S

Map data
Escala [ca. 1:5.364.500]. 300 Stat. Miles [= 9 cm]
Author
Date
1899
Edition
[Washington] : U.S. Geological Survey, J.W. Powell, Director
Edition
Ed. 1896, reimp. 1899
Type
Material cartográfico impreso
Physical description
1 mapa : col.; 44 x 71 cm

Call number
MR/33-41/3843
PID
bdh0000240382
CDU
(73)
Description
Márgenes graduados. - Red hidrográfica. - Divisiones administrativas
Título uniforme
Title
United States Contour Map [Material cartográfico] / Compiled by Henry Gannett ; Engraved by U.S.G.S

Map data
Escala [ca. 1:5.364.500]. 300 Stat. Miles [= 9 cm]
Author
Date
1899
Edition
[Washington] : U.S. Geological Survey, J.W. Powell, Director
Edition
Ed. 1896, reimp. 1899
Type
Material cartográfico impreso
Physical description
1 mapa : col.; 44 x 71 cm

Call number
MR/33-41/3848
PID
bdh0000240393
CDU
(73)
Description
Márgenes graduados. - Relieve por curvas de nivel. - Red hidrográfica. - Divisiones administrativas
©2021 BNE - Pº de Recoletos 20-22
28071 Madrid Tel.: (34) 91 580 78 00