Records per page:
Order by: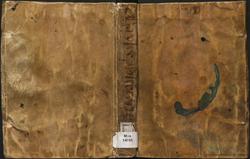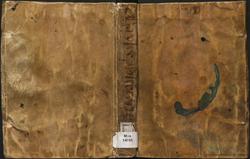 Title
Bailes diferentes [Manuscrito]

Author
Date
entre 1601 y 1700?
Edition
S.XVII
Type
Manuscrito
Subject
Physical description
II, 196 h.; 21 x 15 cm.

Call number
MSS/14856
PID
bdh0000214150
Content
Índice de bailes (h. I-II). El corazón, de Agustín Moreto (h. 1-3). La Roma del prado (h. 3v-5). Las lágrimas de Jacinta (h. 5-7v). El retrato, de Olmedo (h. 8-10). El amolador, Benavente (h. 10v-14). Con la red de sus pestañas (h. 15-18). Loa con que empezó Escamilla en Madrid, de Calderón (h. 19-24). Gileta, de Juan Vélez (h. 25v-28). Atiende al ruego, Marica (h. 29-31). Periquillo el de Madrid: entremés (h. 32-38v). El mundo y el tiempo (h. 37-39). Los desengaños (h. 40-41v). Los títulos de comedias (h. 42-47). Las pinturas, de [Agustín de] Salazar (h. 48-49). Bernarda y Pascual (h. 50-55). El retrato de una dama (h. 56-57). El vestuario: entremés, de Moreto (h. 58-62v). Menga y Bras, de Olmedo (h. 63-67v). La vida de la dama cortesana: baile entremesado hecho con versos de romances viejos (h. 68-72). La esgrima, de Juan Vélez (h. 73-76v). La ruda política (h. 77-80). Angélica y Medoro: mojiganga (h. 81-90). Perico, por un bemolado (h. 91-94). Los títulos de comedias, de Olmedo (h. 95-99v y 192-196v). Para lo que le mandaron (h. 101-104). El pastelero (h. 105-105v). El doctor y el sacristán (h. 106-109). La pelota, por Lanine (h. 109r-112). La ronda del amor (h. 113-116v). La gaita gallega, por Alonso de Olmedo (h. 117-120). Fileno (h. 121-122v). Baile nuevo (h. 123-124v). El miserable enamorado: mojiganga, de Román Montero de Espinosa (h. 125-131v). Florindo y Filis, de Juan Lopes del Corral (h. 133-137v). Albano (h. 139-143v). El desafío (h. 144-148v). Las flores, de Olmedo (h. 149-154). El ciego amor vendado, por Manuel Freile (h. 155-158). El Conde Claros, por Moreto (h. 159-162). El poeta: entremés, por Francisco de Leiva (h. 163-170v). El tono de la señora Inés: baile entremesado (h. 171-178v). El amor y la locura (h. 179-186). Los carreterillos, por Lanine (h. 186v-191v)
Description
Sello de Agustín Durán
Texto con correcciones
Paz, Teatro (2ª ed.) n. 798, 3213, 344 y 218.
Inventario de la Librería que fue del Excmo. Sr. D. Agustín Durán, comprada por el Gobierno de S.M. con destino a la Biblioteca Nacional, en virtud de Real Orden fecha en 27 de junio de 1863, en Memoria remitida al Excmo. Sr. Ministro de Fomento..., por el Director de la Biblioteca Nacional, Madrid, 1865 p. 96.
Ciria Matilla, Mª Soledad, Manuscritos y ediciones de las obras de Agustín Moreto, en Cuadernos Bibliográficos XXX (1973), p. 76 y 85.
Yakeley, M. June, El estilo castellano y el estilo catalán..., en The Journal of Lute Society XXXV (1995), p. 59.
Buezo, Catalina, La mojiganga dramática: de la fiesta al teatro, Madrid, 1993 v.1, p. 441 y 469.
Loas, entremeses y bailes de Agustín Moreto, estudio y edición de María Luisa Lobato, Kassel, 2003 v. 2, p. 373 -385.
Quiñones de Benavente, Luis, Nuevos entremeses atribuidos a Luis de Quiñones de Benavente; ed. crítica... por Abraham Madroñal Durán, Kassel, 1996 p. 56.
Letra de distintas manos
Agustín Durán
La Barrera atribuye La pelota a Jacinto Alonso Maluenda y El desafío a Juan de Matos Fragoso
Título tomado del tejuelo
Algunas obras copiadas por Matías Godos
En blanco las h. 14v, 24v, 31v, 39v, 80v, 100, 104v, 132, 138, 154v y 158v
Mutilada la h. 112
Título uniforme
Title
Parte veinte y seis de Comedias nueuas escogidas de los mejores ingenios de España ...

Author
Date
1666
Edition
En Madrid : por Francisco Nieto
Type
Libro
Subject
Physical description
[4], 254 [i.e. 255] h.; 4º

Call number
R/22679
PID
bdh0000150928
CDU
821.134.2
Related collections
Lingüística. Literatura > Literatura > Literatura española
Content
El baquero de Granada / de Don Iuan Bautista Diamante, h. 1-20r. Lorenzo me llamo / de D. Iuan de Matos Fragoso, h. 20v-42r. Ay culpa en que no ay delito / de D. Roman Montero de Espinosa, h. 42v-63. Mancebo del camino / de D. Iuan Bautista Diamante, h. 64-85v. Los sucessos de tres horas / de Don Luis de Ouiedo, h. 85v-105. Fiar de Dios / de D. Antonio Martinez, y D. Luis de Belmonte, h. 106-127r. Desde Toledo a Madrid / del Maestro Tirso de Molina, h. 127v-146 r. El amor puesto en razon / de Don Sabastian de Villa-Viciosa, h. 146v.-167 v. La gran comedia de San Luis Bertran / de Don Agustin Moreto, h. 167v.-187r., (el verdadero autor es Gaspar de Aguilar, según C. Alberto de la Barrera, Teatro antiguo español, p. 9, y Simón Diaz, IV, 2054). La piedad en la iusticia / de Don Guillen de Castro, h. 187v.-211v. Resucitar con el agua / de Don Ioseph Ruiz ... Iacinto Hurtado de Mendoça y Pedro Francisco Lanini Valencia, h. 211v-231. Todo cabe en lo possible / de Don Fernando de Abila, h. 232-254 El baquero de Granada / de Don Iuan Bautista Diamante, h. 1-20r. Lorenzo me llamo / de D. Iuan de Matos Fragoso, h. 20v-42r. Ay culpa en que no ay delito / de D. Roman Montero de Espinosa, h. 42v-63. Mancebo del camino / de D. Iuan Bautista Diamante, h. 64-85v. Los sucessos de tres horas / de Don Luis de Ouiedo, h. 85v-105. Fiar de Dios / de D. Antonio Martinez, y D. Luis de Belmonte, h. 106-127r. Desde Toledo a Madrid / del Maestro Tirso de Molina, h. 127v-146 r. El amor puesto en razon / de Don Sabastian de Villa-Viciosa, h. 146v.-167 v. La gran comedia de San Luis Bertran / de Don Agustin Moreto, h. 167v.-187r., (el verdadero autor es Gaspar de Aguilar, según C. Alberto de la Barrera, Teatro antiguo español, p. 9, y Simón Diaz, IV, 2054). La piedad en la iusticia / de Don Guillen de Castro, h. 187v.-211v
Description
Sign.: ¶⁴, A -Z⁸, 2A -2H⁸, 2I⁸⁻¹
Numerosos errores de pag.
Texto a dos columnas
©2019 BNE - Pº de Recoletos 20-22
28071 Madrid Tel.: (34) 91 580 78 00