Records per page:
Order by: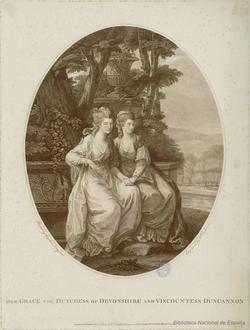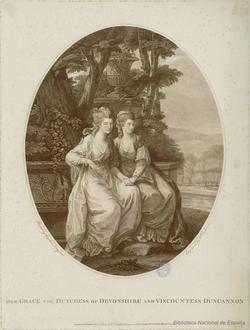 Title
HER GRACE THE DUTCHESS OF DEVONSHIRE AND VISCOUNTESS DUNCANNON. / Painted by Angelica Kauffman ; Engraved by W. Dickinson

Author
Date
1782
Edition
London : by W. Dickinson Engraver & Printseller Nº 158 New Bond Street.
Type
Dibujos, grabados y fotografías
Subject
Devonshire, Georgiana Spencer Cavendish, Duchess of (1757 - 1806)
Bessborough, Henrietta Frances (1761 - 1821)
Mujeres - Retratos
Nobleza - Gran Bretaña
Grabados de retrato - Gran Bretaña - S.XVIII
Grabados de puntos - Gran Bretaña - S.XVIII
Physical description
1 estampa : grabado de puntos; huella de 434 x 328 mm, en hoja de 454 x 337 mm

Call number
IBR/841
PID
bdh0000181613
Summary
Con su hermana Henrietta Frances, que fue después Condesa de Bessborough. Figuras enteras, sentadas en un jardín al pie de unos árboles. Óvalo
Description
Inscripción a lápiz grafito, en el borde inferior derecho: "268 - 336"
Páez, Elena. Iconografía Britana p. 197, n. 4 (Devonshire, Georgiana, Duquesa de).
No consta en "Catalogue of engraved British portraits..."
Singer 18863.
Singer 7158.
Título tomado de la estampa
Firmas de Angelica Kauffman, como pintora, en el entorno inferior izquierdo del óvalo; W. Dickinson, como grabador en el derecho
Datos y fecha de edición tomados del borde inferior de la estampa
Title
La Duchessa di Devonshire / [Painter J. Nixon] ; Bartolozzi sculpt.

Author
Date
1783
Edition
[S.l. : Pub. by W. Dickinson
Type
Dibujos, grabados y fotografías
Subject
Devonshire, Georgiana Spencer Cavendish, Duchess of (1757 - 1806)
Nobleza - Gran Bretaña
Grabados de retrato - Gran Bretaña - S.XVIII
Grabados de puntos - Gran Bretaña - S.XVIII
Physical description
1 estampa : grabado de puntos, sanguina; mancha de 98 x 76 mm, en hoja de 128 x 93 mm

Call number
IBR/211
PID
bdh0000182011
Summary
Retrato de media figura 3/4 a la derecha. Óvalo
Description
Inscripción, en el borde inferior: "La Duchessa di Devonshire"
No consta en "Iconografía Britana"
O'Donoghue, Freeman. Catalogue of engraved British portraits... v. 2, p. 50, n. 20 (Devonshire, Georgiana, Duchess of).
Duplessis v. 3, p. 162, n. 12646 -2.
Título tomado de la estampa
Firma de Bartolozzi como grabador, en el entorno inferior derecho del óvalo
Datos del pintor tomado de Iconografía Britana
Prueba de estado antes de la letra; 2º? estado con la letra en IBR/842
Datos y fecha de edición tomados de IBR/842
Estampa recortada
©2020 BNE - Pº de Recoletos 20-22
28071 Madrid Tel.: (34) 91 580 78 00