Records per page:
Order by: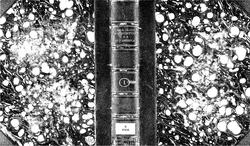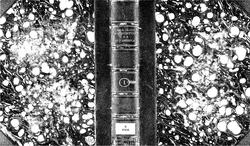 Título uniforme
Title
Historische reisbeschryving van geheel Zuid America [Texto impreso] :gedaan op bevel des konings van Spanje / door Don George Juan ... ; en door Don Antonio de Ulloa ... ; Versierd met zeer fraaije affeeldingen, platte gronden en kaarten, door voorname meesters gegraveerd, en voorzien van de vereischte bladwyzers ; eerste [ tweede] deel

Author
Date
entre 1771 y 1772
Edition
Te Goes : by Jacobus Huysman (In's Gravemhage : gedrukt by Jacobus van Karnebeek)
Type
Libro
Subject
Expediciones científicas - América del Sur
Indios de América del Sur - Usos y costumbres
América del Sur - Historia
América del Sur - Descubrimientos y exploraciones
Physical description
2 v. ([8], XXIV, 428 p., [5] h. de map. pleg., [8] h. de lám. ; VIII, IV, 406, [2] p., [9] h. de map. pleg., [5] h. de lám.); 4º

Call number
R/41036-R/41037
PID
bdh0000016595
CDU
94
Description
Aguilar Piñal. Bib. S.XVIII v. 4, n. 5931.
Aguilar Piñal. Bib. S.XVIII v. 8, n. 1644.
Según Library of Congress (2009/08/07), se trata de la traducción de la edición en francés de 1752
Datos de impresor tomados del colofón del Tomo I
Fecha de Tomo II: 1772
Anteportadas
Portadas a dos tintas, y grabado calcográfico con alegorías y escudo real: "H. Vinkeles, sculps."
Sign.: * -****⁴, A -Z⁴, Aa -Zz⁴, Aaa -Ggg⁴, Hhh² ; *⁴, **², A -Z⁴, Aa -Zz⁴, Aaa -Eee⁴
Las h. de map. representan planos de ciudades americanas, como Cartagena de Indias, Quito, etc.
Las h. de lám., grabados calcolgráficos que muestran útiles, usos y costumbres de los nativos americanos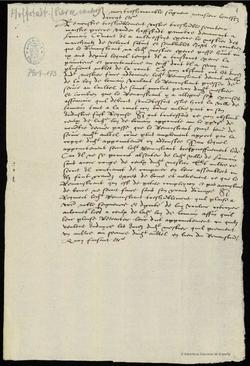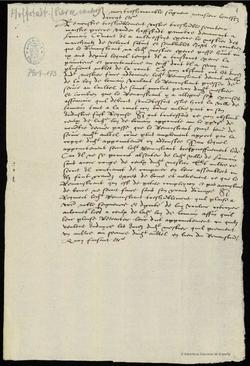 Title
Cartas de Pierre van der Haffstadt al Cardenal Granvela [Manuscrito]

Author
Date
entre 1501 y 1600?
Edition
S. XVI
Type
Manuscrito
Physical description
3 h.; 29 x 19 cm y menos

Call number
MSS/7909/173-174
PID
bdh0000173422
CDU
94(460)
94(4)
Summary
Dos cartas sin data, firma ni sello
Description
Texto en francés y holandés
Correspondencia del Cardenal Granvela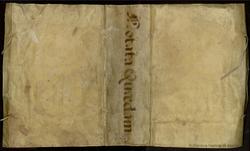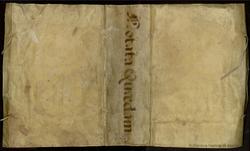 Title
Papeles varios [Manuscrito] / escritos y recopilados por Juan Vásquez del Marmol

Author
Date
entre 1501 y 1700?
Edition
S.XVI -XVII
Type
Manuscrito
Subject
Imprenta - España - Historia - Fuentes
Censura - España - Fuentes
Inquisición - España - Historia - Fuentes
Medicina - Fórmulas y recetas - Obras anteriores a 1800
Diccionarios políglotas
España - Genealogía - Fuentes
Physical description
596 h. : il.; 34 x 24 cm

Call number
Mss/9226
PID
bdh0000096041
CDU
94(460)
27
615
030
Summary
Recopilación de textos latinos. Noticias históricas, genealógicas y eclesiásticas, y otras notas varias. Recetario. Relación de libros y papeles privados prestados en Granada, 1605-1610. Notas relativas a la impresión de libros y a su censura por la Inquisición. Vocabulario flamenco-español. Diálogo llamado Lucidario, de Honorius Augustodunensis; traducción castellana de la edición de Milán de 1493
Description
Manuscritos e impresos
Bouza, Fernado, Communication Knowledge and Memory in Early Modern Spain, Philadelphia, Univ. of Pennsuylvania, 2004 pp. 42 -82.
Bouza, Fernado, Corre manuscrito : una historia cultural del Siglo de Oro, 2001 p. 50.
Martín Abad, Mss. Bibl. BN p. 90, n. 153.
Texto en español, italiano, flamenco y latín
Numerosas h. y vueltos en blanco
Errores en la foliación original a lápiz
Deteriorado
Dibujos a pluma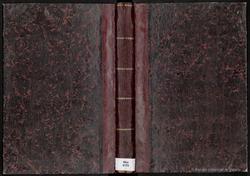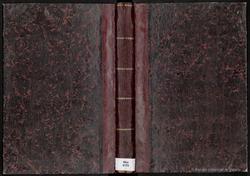 Title
Documentos relativos al Ducado de Brabante, dados por Carlos V, 1549 y Felipe II, 1557 [Manuscrito]

Author
Date
entre 1501 y 1600?
Edition
S.XVI
Type
Manuscrito
Subject
Physical description
159 h.; 30 x 20 cm

Call number
Mss/9179
PID
bdh0000095998
CDU
94(460)
94
Description
En blanco la h. 36v
©2019 BNE - Pº de Recoletos 20-22
28071 Madrid Tel.: (34) 91 580 78 00