Records per page:
Order by:
Title
GEORGE GORDON SECOND MARQUISS OF HUNTLY. / Van Dyke pinxit. ; Val. Green Engraver to his Majesty fecit.

Author
Date
1775
Edition
London : by John Boydell Engraver in Cheapdise
Type
Dibujos, grabados y fotografías
Subject
Huntly, George Gordon, II Marqués de (1592 - 1649)
Grabados de retrato - Gran Bretaña - S.XVI
Maneras negras - Gran Bretaña - S.XVIII
Physical description
1 estampa : manera negra; huella de 539 x 353 mm en hoja de 595 x 432 mm

Call number
IBR/1491
PID
bdh0000180134
Summary
Figura entera, casi de frente. Coraza y gran cuelllo de encaje; apoyado en un bastón. Junta a una mesa y sobre ésta, el yelmo
Description
Inscripción en el borde inferior: "From the Original Picture in the Collection of his Grace the Duke of Montagu."
Páez, Elena. Iconografía Britana p. 344 (Huntly, George Gordon, 2º Marqués de).
O'Donoghue, Freeman. Catalogue of engraved British portraits... v. 2, p. 594, n. 3 (Huntly, George, 2nd Marquess of).
Título tomado del borde inferior del retrato
Firmas de Van Dyck, como pintor, en el ángulo inferior izquierdo; Valentine Green, como grabadora en el derecho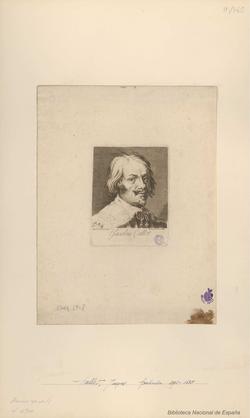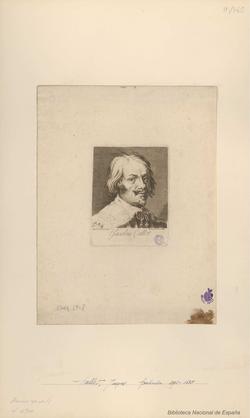 Title
Jacobus Callot / Ant. van Dyck pinx. ; F. Polanzani sculp.

Author
Date
entre 1715 y 1783
Edition
[Paris?] : [s. n.]
Type
Dibujos, grabados y fotografías
Subject
Callot, Jacques (1592 - 1635)
Pintores - Francia
Grabadores - Francia
Aguafuertes - Francia - S.XVIII
Buriles - Francia - S.XVIII
Grabados de retrato - Francia - S.XVII
Physical description
1 estampa : aguafuerte, buril; huella de la plancha de 115 x 89 mm, en h. de 272 x 205 mm

Call number
IF/760
PID
bdh0000230715
Summary
Retrato en busto de Callot hacia la derecha, dirigiendo su mirada al frente. Presenta bigote, perilla, pelo largo y un gran cuello de puntilla anudado con un lazo bajo la barbilla
Description
Estampa que pertenece a la escuela italiana según el Louvre
WWW Britishmuseum, 30 -12 -2016 R, 1A.64.
Duplessis 7789 -21.
http://arts -graphiques.louvre.fr/detail/oeuvres/0/571615 -Portrai t -de -Jacques -Callot
http://data.fitzmuseum.cam.ac.uk/id/object/145569
No consta en The New Hollstein. Dutch and Flemish. Anthony van Dyck
No consta en la L'Iconographie de Van Dyck de Marie Mauquoy -Hendrick
No consta en L' Iconographie de Van Dyck de F. R. Wibiral
Título tomado de la estampa
Estampa basada en la realizada por Vosterman pero en sentido inverso
Fecha tomada del British Museum
©2019 BNE - Pº de Recoletos 20-22
28071 Madrid Tel.: (34) 91 580 78 00