Records per page:
Order by: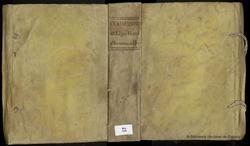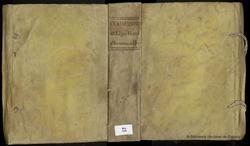 Título uniforme
Title
Leges Gotthorum Regum y otros documentos [Manuscrito]

Author
Date
entre 1701 y 1800?
Edition
S. XVIII
Type
Manuscrito
Subject
Physical description
I, 555 h.; 30 x 21 cm.

Call number
MSS/7656
PID
bdh0000057549
CDU
34
94(460)
Description
Índice en h. I
Nota en h. 1 sobre el original de este manuscrito que perteneció al Presidente Diego de Covarrubias, después a D. Diego del Corral, del Consejo de Castilla, y a D. Juan de Palafox y Mendoza, del Consejo de Indias
UNESCO, Memory of the World, 2015
Título en el tejuelo: Covarrubias ad leges gothi y Memorias de Reyes
En blanco las h. 345v -354v., 400 -405v., 408 -408v. y 420v.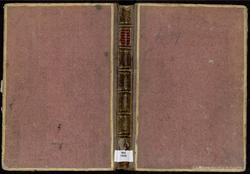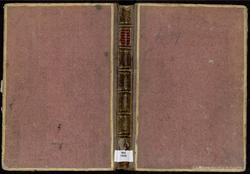 Title
Papeles varios [Manuscrito]

Author
Date
entre 1601 y 1800?
Edition
S. XVII -XVIII
Type
Manuscrito
Subject
Leganés, Diego Felipe de Guzmán, Marqués de (m. 1655)
Pérez, Antonio (1540 - 1611)
Vizcaíno, Sebastián
Galeones
España - Historia - 1516 - 1556 (Carlos I)
España - Historia - 1556 - 1598 (Felipe II)
Castilla (Reino) - Historia - 1350 - 1369 (Pedro I)
España - Historia - 1598 - 1621 (Felipe III)
España - Historia - 1759 - 1788 (Carlos III)
Physical description
124 h.; 31 x 22 cm

Call number
MSS/18393
PID
bdh0000135677
CDU
94(460)
Content
Carta de advertencias secretas del Emperador Carlos V a su hijo Felipe II, 1543 (h. 1-11v). Advertimientos del Rey Felipe II para Don Juan de Austria, su hermano, cuando le hizo su Capitán General de la Mar, 1568 (h. 14-18). Instrucción de Felipe II a Don Diego de Covarrubias, Obispo de Segovia, Presidente de Castilla (h. 22-28). Real Orden de Carlos III sobre fomentos del arbolado en las cercanías de Madrid, 1778 (h. 30-32v). Copia del papel que Don Diego de Mendoza, a quien Felipe II mandó prender por haber sacado la espada en su Cámara, escribió al Cardenal Espinosa, Presidentes de Castilla (h. 34-36v). Sucesos posteriores que ilustran el mismo caso (h. 37-39). Carta del Almirante a Felipe IV antes de salir para Nápoles, 1643 (h. 40-41). Carta del Rey Don Pedro manifestando las causas que lo movieron para quitar la Villa de Aguilar de Campos a Don Alonso Fernández Coronel, 1353 (h. 44-49). Real Cédula del Rey Felipe III dirigida al Marqués de Montes Claros para que haga buscar a Sebastián Vizcaíno, general de navíos, para que se disponga a ir a Filipinas, 1606 (h. 51-58v). Cédulas reales dirigidas al Marqués de Montes Claros sobre la administración de los virreinato de la Nueva España y el Perú, 1606 (h. 59-67v). Memorial de un gobernador de una plaza en la frontera con Francia haciendo ver el abandono de la frontera para el caso en que los franceses intenten hacer una entrada (h. 68-69). [Impreso]: Coplas satíricas contra el Marqués de Leganés: Coplas, hechas, y no endechas / al Marqués de Leganés (h. 70). [Impreso]: Programma: Don Diego Phelipez de Guzmán, Marqués de Leganés (h. 71). Relación de las justicias hechas en Zaragoza el 19 de octubre de 1592 (h. 72-75). Memorial de Don Baltasar Álamos y Barrientos al Rey Felipe II (h. 75-79). Sentencia contra Antonio Pérez (h. 80-85). Carta de Antonio Pérez a Su Magestad desde Zaragoza, 1590 (h. 85-87). Varios papeles curiosos de Don Antonio de Oquendo (h. 89-114). Forma de la fábrica de un Galeón, con sus aparejos y los nombres de ellos (h. 116-122v)
Description
Originales y copias
Manuscritos e impresos
Catálogo de pliegos sueltos poéticos de la Biblioteca Nacional. S. XVII n. 302, 767.
Paz, América (2ª ed.) p. 310 -311, n. 1048 y p. 376, n. 1272.
Roca, Gayangos n. 1080.
Mathes, W. Michael, Sebastián Vizcaíno y la expansión española en el Océano Pacífico, 1580 -1630, México D.F., 1973 p. 136.
Puente Burke, José de la, Encomienda y encomenderos en el Perú: estudio social y político de una institución colonial. Sevilla, 1992 p. 308.
Latasa Vassallo, Pilar, Administración virreinal en el Perú: gobierno del Marqués de Montesclaros (1607 -1615), Madrid, 1997 p. 708.
Coplas, hechas, y no endechas / al Marqués de Leganés (h. 70)
Pascual de Gayangos
Título del tejuelo: Instrucciones de Carlos V y Phelipe II. Papeles Cur.
Desde la h. 38 foliación antigua en tinta y foliación moderna en lápiz
En blanco las h. 12 -13, 19 -21, 29, 33, 42 -43, 50, 52 -53, 88, 101, 104, 106 -107, 115, 123
©2019 BNE - Pº de Recoletos 20-22
28071 Madrid Tel.: (34) 91 580 78 00