Records per page:
Order by: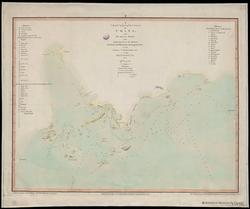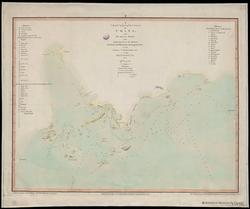 Título uniforme
Title
A Chart of part of the Coast of China and The adjacent Island [Material cartográfico] : from Pedro Blanco to the Mizen / Laid down from Observations made in 1759 and 1760, in the Schooner Cuddalore, and in the Ship London, 1754 By Dalrymple ; Graduated & Engraved by B. Henry. The Hills Etched by D. Lerpeniere ; The Writing Engrav'd by W. Whitchurch, Bartholomew Lane, Royal Exchange, London

Map data
Escala [ca. 1:370.000]. 1 grado de latitud [= 30 cm]
Author
Date
entre 1759 y 1771
Edition
[London] : Published according to Act of Parliament by Alexander Dalrymple
Type
Material cartográfico impreso
Physical description
1 carta náutica : grab., col.; 55 x 67 cm

PID
bdh0000062536
CDU
(510 S.)
Description
Bajo el título nota explicativa
Orientada con media lis en cuadrante. - Graduada la latitud. - Indica sondas batimétricas. - Relieve por normales. - Leyenda por clave alfabética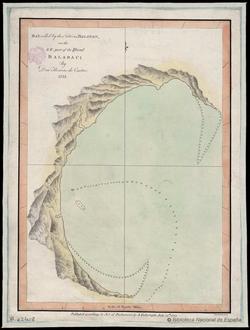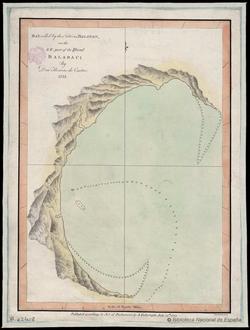 Título uniforme
Title
Bay, called by the Natives, Dalawan, on the S.E. part of the Island Balabac [Material cartográfico] / by Don Thomas de Castro 1753 ; Whitchurch sculp.

Map data
Escala [ca. 1:23.440]. 2 Nautic Miles [= 15,8 cm]
Author
Date
entre 1753 y 1774
Edition
[London] : Publish'd according to Act of Parliament by A. Dalrymple
Type
Material cartográfico impreso
Physical description
1 carta náutica : grab., col.; 30 x 23 cm

PID
bdh0000062479
CDU
(599.18 Dalawan, bahía)
Description
Orientado con media lis. - Indica sondas batimétricas, veriles, bajos y fondeaderos. - Relieve por montes de perfil y sombreado
Lugar de publicación tomado: The British Museum catalogue of Printed Maps, 1967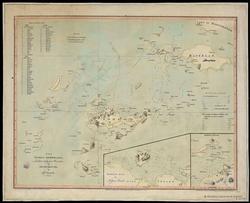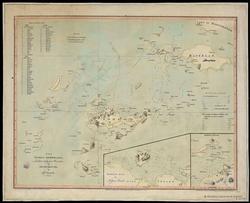 Título uniforme
Title
The Sooloo Archipelago [Material cartográfico] / Laid down chiefly from Observations in 1761, 1762, 1763, & 1764 by ADalrymple ; Graduated & Engraved by B. Henry. The Hills Etched by D. Lerpeniere ; The Writing Engraved by W. Whitchurch Bartholomew Lane, Rl Exchange, London

Map data
Escala indeterminada
Author
Date
entre 1764 y 1771
Edition
London : Published according to Act of Parliament by Alexander Dalrymple
Type
Material cartográfico impreso
Physical description
1 carta náutica : grab., col.; 54 x 67 cm

Call number
MR/6/I SERIE 53/256
PID
bdh0000130746
CDU
(599.311)
(599 Toolyan, bahía)
Description
Inserta: 1. "Toolyan Bay / by Mr.James Rennel". - Escala de 6 Nautic Miles [= 19,5 cm]. - 15 x 24 cm. 2. "Sooloo Road". - Escala de 12 Nautic Miles [= 11 cm]. - 15 x 13 cm
Inserta: 1. "Toolyan Bay / by Mr.James Rennel". - Escala de 6 Nautic Miles [= 19,5 cm]. - 15 x 24 cm. 2. "Sooloo Road". - Escala de 12 Nautic Miles [= 11 cm]. - 15 x 13 cm
Orientada con media lis. - Relieve por normales. - Indica sondas batimétricas y veriles. - Leyenda por clave alfabética
Título uniforme
Title
A Chart of the China Sea [Material cartográfico] : Inscribed to Monsr. D'Aprés de Mannevillette the ingenious Author of the Neptune Oriental : As a Trubute due to his Labours for the benefit of Navigation and in acknowledgement of his many signal Favours to ADalrymple / Graduated and Engraved by B. Henry ; The Writing Engraved by B. Henry ; The Writing Engraved by W. Whitchurch Bartolomew Lane, Royal Exchange, London

Map data
Escala [ca. 1:4.400.000]. 1 grado de latitud [= 2,5 cm]
Author
Date
1771
Edition
[London] : Publish'd according to Act of Parliament, by Alexander Dalrymple
Type
Material cartográfico impreso
Physical description
1 carta náutica : grab., col.; 68 x 54 cm

PID
bdh0000062414
CDU
(265 China, mar)
Description
Orientada con media lis. - Márgenes graduados. - Indica sondas batimétricas, veriles, bajos y derroteros. - Leyenda por clave alfabética
El lugar de publicación es el habitual de trabajo del impresor
Título uniforme
Title
Plan of Gariah Harbour, on the Malabar Coast [Material cartográfico] : in 16º, 32'N. / by Sir William Hewett Bart. 1756 ; Mw. Smith, sculpt. Pupil to Mr. Whitchurch

Map data
Escala [ca. 1: 23.100]. 2 Nautic Miles [= 16 cm]
Author
Date
entre 1756 y 1775
Edition
[London] : Published according to Act of Parliamemt by A. Dalrymple
Type
Material cartográfico impreso
Physical description
1 carta náutica : grab., col.; 40 x 23 cm en h. de 44 x 32 cm

Call number
MR/6/I SERIE 50/124
PID
bdh0000016500
CDU
(540 Viziadrug, puerto)
Description
Notas explicativas en el interior del mapa
Orientado con media lis en cuadrante con el N. al S. de la hoja. - Indica sondas batimétricas y veriles. - Arbolado y cultivos. - Poblaciones representadas por pequeños planos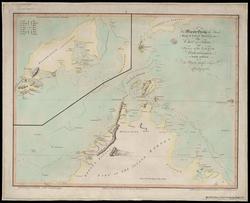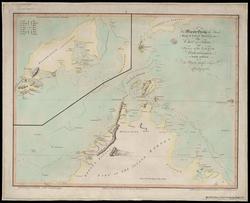 Título uniforme
Title
To His Majesty George the Third, King of Great Britain, &c. This Chart of Felicia and Plan of the Island Balambangan is humbly prefented Chart of Felicia and Plan of the Island Balambangan is humbly prefented [Material cartográfico] / by ... ADalrymple ; Graduated & Engrav'd by B. Henry ; The Hills Etch'd by D. Lerpeniere ; The Writing Engraved by W. Whitchuirh, Bartholomew Lane Exchange, London

Map data
Escala [ca. 1:740.740]. 1 grado de latitud [= 15 cm]
Author
Date
1770
Edition
[London] : Publish'd according to Act of Parliament by Alexander Dalrymple
Type
Material cartográfico impreso
Physical description
1 carta náutica : grab., col.; 49 x 63 cm

PID
bdh0000013433
CDU
(595. 41)
(595 Balambangan, isla)
Description
Incluye: [Chart the Balambangan]. - Escala [ca. 1: 94.000]. 10 Nautic Miles [= 19,7 cm]. - 30 x 32 cm
Incluye: [Chart the Balambangan]. - Escala [ca. 1: 94.000]. 10 Nautic Miles [= 19,7 cm]. - 30 x 32 cm
Orientado con media lis. - Graduada la latitud. - Relieve por sombreado. - Indica sondas batimétricas, veriles y fondeaderos
El lugar de publicación es el habitual de trabajo del impresor
©2019 BNE - Pº de Recoletos 20-22
28071 Madrid Tel.: (34) 91 580 78 00